My wife and I are approaching nine years of marriage, and I can't remember ever having a big fight about money. Sure, we bicker about money on occasion. Who doesn't?
In an era where financial issues are the second leading cause of divorce, I'm proud to say that this is one thing that has never been a significant issue. So what's our secret?
The main reason is that we've never been in a dire financial situation on the verge of bankruptcy or anything even close. However, I believe a secondary reason is that we've ignored all the advice about having a joint bank account.
Should Your Family Have Separate Bank Accounts?
We are big Dave Ramsey fans. I don't think we'd be debt-free if not for his advice, so I am grateful. One of Dave's advice pillars is that a married couple should have a joint bank account. He says that a joint bank account forces you to make financial decisions together, and it's a dangerous sign to your relationship if you keep your accounts separate. According to Ramsey, "One checking account in your marriage forces you to cooperate, forces you to communicate, forces you to be of one mind, and creates a level of unity that is just plain weird."
I'll be honest; I'm not sure how much I love the word "forces." I've always been someone who wants to understand the "why" in something entirely, and the more complex someone forces me to do something when I don't understand the why, the less likely I am to do it. My wife is the same way.
Call me crazy, but I think being aligned with money is possible with separate bank accounts. But, ultimately, it comes down to what works best for you and your family.
Our Decision to Keep Separate Bank Accounts
Our premise has been to focus on the big things and let the small stuff slide throughout our entire debt paydown journey. For example, housing, transportation, and food account for about 70 percent of the budget in many households. So our approach has always been that if we can keep these costs reasonable, we don't have to be perfectly aligned on the small stuff.
Similarly, I don't see a need for my wife and me to communicate about every trip to Starbucks or the decision to buy a beer or two at happy hour after work. My wife and I are both first-born, fiercely independent millennials who like to have some financial space. I'd say that we're both natural savers instead of spenders, so we have never had issues making this work for us. Of course, this doesn't mean that it will work for you and your family, but you shouldn't feel guilty for having separate bank accounts.
The bottom line, do what works best for your family. If there are trust issues, or if one partner is a big spender and needs some accountability, then, by all means, go for joint accounts. This is not a recommendation against a joint bank account; it's simply an alternative to the status quo. I believe a couple can be united financially while having separate accounts.
Our Rules With Separate Bank Accounts
We have three simple rules that allow us to stay aligned with money.
1) We are not allowed to take on significant credit card debt. In addition to our bank account, we also have our credit cards. It's not uncommon for either of us to carry a small balance that usually gets paid off within a month. We hold each other accountable by sharing when we are in a situation where we can't pay down our balance in a reasonable amount of time, then try to help each other out.
2) Even though we have our own accounts, we still discuss significant purchases. We do not have an exact threshold, but it usually ends with anything about $200 or $300. As you'll read below, many of the larger purchases come from our savings or my account, given the way we're set up.
3) We let each other know when money is tight. At least once a month, one of us asks the other how we're doing with our money. We've grown to just kind of know when one is in better shape than the other. For example, our family sometimes teases us about deciding who will pay for dinner. Since this is a discretionary expense, we just kind of figure it out. It's never been that complicated.
How We've Managed Our Money With Separate Bank Accounts
My wife got her first teaching job in 2012, a few years after marriage. While she was in school, I paid for most of the expenses, and she worked a bit on the side for her own spending money. After getting a full-time job that paid decently, we sat down to sort out our expenses.
I don't remember exactly what our take-home pay was then, but my checks were about twice as much as hers. For simplicity, let's say that she made $1,500 and me $3,000.
Our goal in all of this was to agree on the amount we wanted to save or use to pay down debt and ensure we had roughly the same amount of spending money left over after bills were paid.
We've never kept a budget. However, we've used for years what has been coined as the anti-budget by Paula at Afford Anything.
A quick summary of the anti-budget is that you immediately save, give, and then pay all bills after getting paid. Whatever is left is yours to spend on whatever you want. It's budgeting in reverse, but at a higher level. Here is our process:
Step 1: Write Down All Regular Expenses
The first step in our process was to write down all of our regular expenses. This included mortgage, student loan payments, internet, groceries, gasoline, day, and anything else that we paid for regularly. We did not have entertainment, going out to eat, or other random expenses.
Step 2: Determine Giving, Savings, or Additional Debt Payments
Writing down our regular expenses gave us an idea of how much we could dedicate to either giving, saving, or additional debt payments. When we first started, my wife was still in school pursuing her teaching certificate. We couldn't put much of anything towards any of these categories.
When my wife got her first teaching job, instead of increasing lifestyle inflation, we lived on the same budget and put almost all of her salary towards paying down the $50,000 in student loans that we had accrued. Then, as our wages increased over the years, we steadily threw more money at our debt and built an emergency fund. More recently, we have been trying to give more of our money away.
If you are using the anti-budget method, the most crucial part is that these payments come out of your account as soon as you get paid. If you wait to see what's leftover at the end of the month to make debt payments, I promise there will be nothing left unless you are on a strict budget.
Step 3: Determine Slush Money
What is slush money? This would include anything that isn't a regular monthly expense identified in steps 1 or 2. For example, going out to eat, tickets to a sporting event, grabbing a latte from the local coffee shop, buying a wedding present, or other random or infrequent expenses.
The most important thing here was to ensure that our slush money was the same. Even though my income has always been higher than my wife's, we've always had similar slush money in our separate bank accounts after making monthly payments.
Below is a snapshot of our income and expenses from 2012 as a duel income married couple. This was before we had kids or regularly gave to charity. For a more recent snapshot of our costs after becoming debt-free, you can check out this blog post.
Step 4: Determine Who Pays What
After writing down all regular expenses, extra payments, and slush money, it's time to determine who pays what expense. After selecting the amount of slush money and additional debt paydown, we could then go back into who paid what regular expense. Usually, I paid the more significant expenses such as the mortgage and debt payments. She would pay the smaller regular bills. Below is how we separated our bills back in 2012.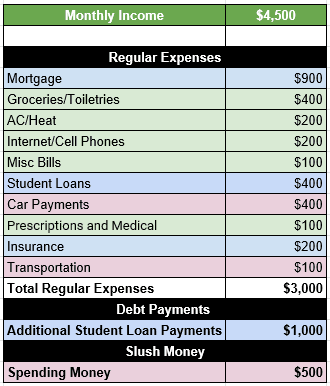 Additional Advice For Couples With Separate Bank Accounts
Have a Small Emergency Fund
The first question you may have is, what happens if an unexpected expense comes up? This is where a small emergency fund comes into play. Since 2011, we have followed Dave Ramsey's baby steps to paying down debt. The first step is to save at least $1,000 into an emergency fund. This will allow you to pay for the majority of unexpected expenses.
If you use the anti-budget approach, I'd recommend a larger emergency fund before starting to tackle debt. In 2012, we had about $5,000 in savings despite our debt. Thankfully we did because we had to replace our HVAC system around this time, which would have been crippling and resulted in more debt if we didn't have this cushion. Because this is more of a laid-back budgeting approach, having more of a cushion will allow you to respond to more considerable unexpected expenses.
Re-adjust at Least Once Per Year
While we do not budget every month, it has always been essential to review our expenses, additional payments, and slush money at the beginning of every year. We've had several life changes during this period, including two children, daycare expenses, increased income through promotions, and many other events.
Re-adjusting once per year allowed us to determine how much we wanted to throw towards debt and not giving or saving. It also ensured that we had similar slush money for all of the fun things we wanted to do with our pool of funds.
Considerations on a Single Income
After six years of teaching, my wife decided to take a few years off to stay at home with our young children. They are 4-years-old and almost 11 months as of the writing of this post. This decision would not have been possible if we hadn't started getting our financial lives in order back in 2011. What seemed like a painstakingly long journey to become debt-free came to fruition at the absolute perfect time.
We paid off our mortgage in early August 2018, the same month that my wife received her last paycheck. Even though she has stopped working, we decided not to move to a joint bank account. Instead, I've set up my direct deposit at work to receive the same amount of money per month as when she was teaching. The money we were paying towards our mortgage, plus some of the additional payments we were making, now goes directly into her bank account.
Should Your Family Have Separate Bank Accounts?
There are benefits to married couples having a joint bank account. However, I believe there are also benefits to having a separate bank account. In too many families, only one person handles most of the money. Having both involved with money allows for shared responsibility.
This approach may not work well if you are a natural spender who needs some assistance managing money. It also may not work if there is a lack of communication or trust issues.
I don't believe that married couples should be shunned for keeping separate bank accounts. Every relationship is different, and couples should do what is best for their situation.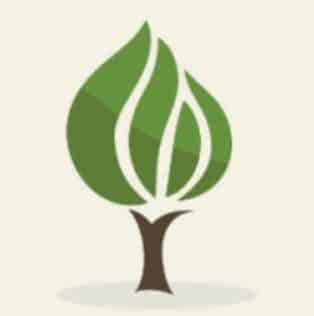 Mark is the founder of Financial Pilgrimage, a blog dedicated to helping young families pay down debt and live financially free. Mark has a Bachelor's degree in financial management and a Master's degree in economics and finance. He is a husband of one and father of two and calls St. Louis, MO, home. He also loves playing in old man baseball leagues, working out, and being anywhere near the water. Mark has been featured in Yahoo! Finance, NerdWallet, and the Plutus Awards Showcase.