If you've ever had a 30-year mortgage, you may remember the feeling of opening your first bill. We had a relatively low interest rate historically at 6% though that seems ridiculously high in this age of low interest rates. So why were so many of our hard-earned dollars going to interest, insurance, and taxes? Only a tiny fraction went to pay down the actual mortgage. That first bill felt like a gut punch. How would we ever get it paid off?
My wife and I purchased our home in December 2008. Yes, that 2008, during the financial crisis. I remember sitting back and watching interest rates go haywire. Around the time we were looking to take out our 30-year loan, interest rates were approaching 7 percent.
We were able to hold off a bit, and when the interest rate on a 30 year fixed mortgage dropped to 6 percent, we locked it in. Then, within five years, we refinanced twice. First to a 5 percent rate, then eventually to 4 percent. On the second refinance, we also increased the total amount of the original mortgage by about $25,000 as we lumped in our remaining student loans.
Five years after moving into our home, we had refinanced twice, paid thousands of dollars in mortgage payments without building hardly any new equity, and then added tens of thousands of dollars in student loan debt during our final refinance.
We were making barely any progress. After the second refinance, the balance on our mortgage was $123,000 in 2012. It felt like we were treading water, and it certainly didn't help that we piled onto our mortgage debt during the second refinance. If we made minimum payments since taking out the loan in 2012, we'd still have nearly six figures left on the mortgage today. The reality is that we hardly make any progress towards paying down a 30-year mortgage making minimal payments until the second half of the loan.
Please note that most of this post assumes a 4% interest rate on a $100,000, 30-year mortgage to keep the numbers consistent and straightforward. As of updating this post in April 2022, interest rates are approaching 5%. Interest rates change daily, and nobody knows what rates will look like in a few months.
How Much Interest Will You Pay During the First Years of a 30 Year Mortgage?
Lately, I've been doing a lot of research on the 30 year fixed mortgage to understand better its mechanics and the benefits of paying it off early. I've been trying to understand the early years of a 30 year fixed mortgage.
Even with a historically low interest rate of 4 percent, why does the majority of our payment in the first few years go towards interest? The answer is quite simple, but something still seems off.
Throughout this post, we will primarily use a mortgage of $100,000 and an interest rate of 4 percent on a 30 year fixed mortgage.
During your first year on a 30 year fixed mortgage, nearly 70% of your mortgage payment of $477 will go to interest alone. Keep in mind this doesn't include taxes or insurance, which are typically included as escrow in your mortgage payment as well.

Therefore, even in a period of historically low interest rates, we are still paying interest for several years of a 30 year fixed mortgage. If you took out a loan today, it would take you until 2033 to reach the tipping point of paying more principal than interest in a month. You wouldn't have half of your mortgage paid down until 2039. These numbers get worse at higher interest rates.
Even more eye-opening, since so little of your initial mortgage payments go towards the principal, it would take you nearly seven years to pay down the first $10,000 on a $100,000 mortgage at 4 percent! If you have a higher mortgage of say $500,000, these ratios pretty much stay the same.
If you don't want to read through the rest of the article, the TL;DR (too long, didn't read) is the math still says to invest instead of pay off your mortgage. However, if you're like me, paying more than 50 percent of my monthly payment to interest was unacceptable, and I wanted to tip the scale as soon as possible. Below are a few additional thoughts.
Is a Mortgage Compound or Simple Interest?
Thinking through this a bit more, this raised an interesting question. Is interest on a mortgage compound or simple interest?
Compound interest is the addition of interest to the principal sum of a loan or deposit, or in other words, interest on interest.
I'll be honest; before researching this article, if you would have asked me this question, I probably would have said compound interest.
While it feels like interest is reverse compounding when nearly 70 percent of your payments are going toward interest in year one, a mortgage is simple interest usually calculated monthly. For example, the table below shows that interest is based on a simple balance calculation. First, take the mortgage balance and multiply by 4 percent (then divide by 12) for the monthly total.
Interest and Principal Paid in Year one of a Fixed 30 Year Mortgage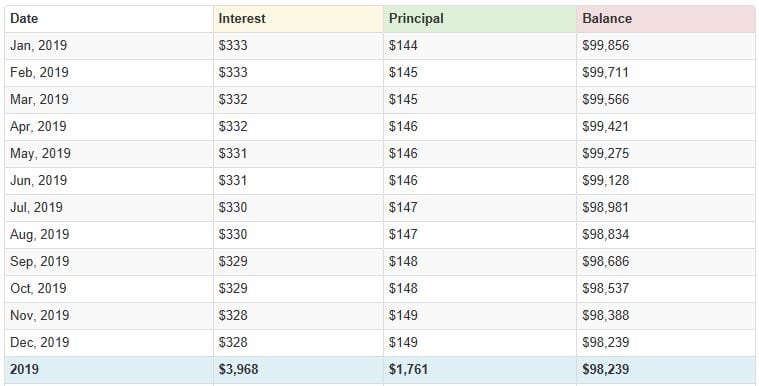 It takes so long to make progress in paying down your mortgage because your principal payment is spread out over such a long period. As you can see in the table above, when you pay nearly $500 per month (not including taxes and insurance), it barely puts a dent in the initial principal. Therefore, you'll be paying almost the same amount in interest the following year.
Now once you get to the back end of your 30-year mortgage, things start to look better. At this point, you're paying more principal than the interest, which causes the interest you pay in the following year to decrease more significantly. As mentioned above, it takes almost 15 years with a 4 percent 30-year fixed mortgage to where more of your money goes to the principal than interest payments.
How Long Do People Keep Their Mortgage?
I wondered next is how many people make it through 15 years of a 30-year mortgage? A lot can happen in those 15 years.
Many families will move to a new house and start over with a brand new 30-year mortgage, paying a high percentage of interest again for years. Some will refinance the mortgage in their current home. Others may have financial issues and go bankrupt or lose a home due to foreclosure.
Over the past several years, mortgage tenure has increased from about six years to 10 years. Locked into historically low interest rates, homeowners are less likely to refinance a new mortgage. They may also not be able to upgrade to a new home with a higher interest rate.
Regardless, suppose the average mortgage tenure is only ten years. In that case, that means the average person isn't getting to the 15-year tipping point where they finally start paying more principal than interest. So even the overachievers who pay their mortgage early wouldn't significantly increase this average.
The Case for a 15 Year Fixed Mortgage
Now let's go back to that first bank statement we received after making our first mortgage payment. Our total mortgage payment was around $900, including putting money in escrow for insurance and taxes.
My jaw about hit the floor when I looked at the breakdown. It was roughly:
$500 in interest
$200 in property taxes
$100 in insurance
$100 in principal paydown
I had just made a $900 payment, and barely a tenth went to building equity. I then pulled out the amortization schedule and was horrified to see that if we made minimal payments, it would take us nearly seven years to build $10,000 in equity. That was insane to me. To the above point, if families are moving and starting over after 6 to 10 years, a family that moves two times and gets a new 30-year mortgage will have to repeat this process over and over again.
Two significant benefits to a 15-year mortgage
If a family can afford it, I recommend a 15-year mortgage. Of course, you would be giving up some payment flexibility of a 30-year mortgage, but there are many benefits of a 15-year mortgage.
First, interest rates are usually nearly a whole percentage point lower on a 15 year fixed mortgage than a 30 year fixed mortgage (it's been closer to .75% recently). Therefore, if we assume a 4 percent interest rate for the 30-year fixed mortgage, we can assume a 3 percent interest rate for a 15-year mortgage.
Second, due to the lower interest rate and higher initial principal payments on a 15 year fixed mortgage, you won't pay nearly as much in interest over the life of the loan. The extra money you pay every month on a 15 year fixed mortgage goes towards the principal, reducing the amount of interest you pay the following month.
Let's take a deeper look. The below table shows the first year of a 15 year fixed mortgage at a 3 percent interest rate.
Interest and Principal Paid in Year One of a Fixed 15 Year Mortgage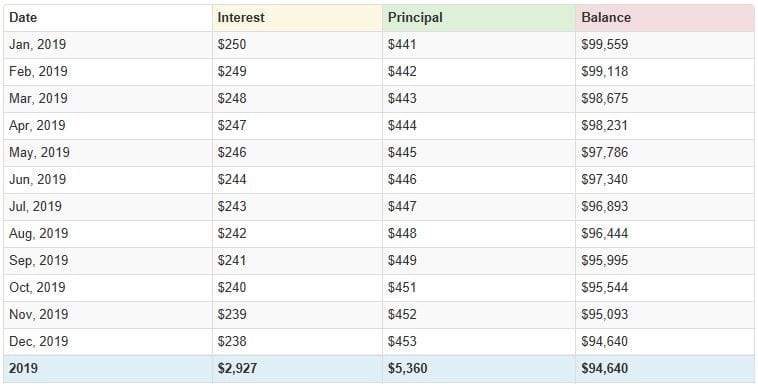 Immediately you can see how much more of your monthly payment goes directly to the principal. For example, as a result of moving from a 30-year interest rate at 4 percent to a 15-year interest rate at 3 percent, your payment will increase from $477 per month to $690. Understandably, this increase of $213 may stretch someone's budget. However, with the 15-year mortgage, 441 dollars will pay down principal right away, more than three times the amount of a 30-year mortgage.
Since mortgage interest is based on a simple interest calculation, this creates a snowball effect where you pay less and less interest every month. While the same happens with a 30 year fixed mortgage, it occurs much faster with a 15-year mortgage.
Should You Invest Extra Money or Pay Off Your Mortgage Early?
The answer to this question is a personal decision. The math usually says to invest extra money in assets with a higher rate of return. However, there are many behavioral benefits to paying off your mortgage.
First of all, if you are in a position to make this decision, congratulations! This likely means that you are in a solid financial position. I would not recommend overpaying your mortgage unless you have all other consumer debt paid, three to six months of emergency savings, investing 15 percent in tax-advantaged accounts, and saving for your children's college funds (if applicable). If this all seems overwhelming, I suggest looking into Financial Peace University to take your first steps to build savings and reduce debt.
Many in the personal finance community believe that paying off a mortgage early is a terrible financial decision (though I wonder if opinions have changed with the current pandemic). They'll say interest rates are historically low, and you can make a higher interest rate elsewhere.
I'm not going to argue with this approach from a mathematical standpoint. However, my argument is if you plan to pay the minimum on your mortgage, then do whatever you can to take out a 15 year fixed mortgage. 
If we had taken out a 15-year mortgage, I'm not sure if we would have aggressively paid down our mortgage as we did. With a 15 year fixed mortgage, you can build equity much faster, plus take advantage of a lower interest rate.
The one place where a 30-year mortgage may make sense is when you pay it off like a 15-year mortgage. Even though the interest rate will be higher, if you were to pay an extra $200 per payment, your paydown would act similar to a 15-year mortgage. The challenge here is it takes a lot of financial discipline to make payments on your 30 years fixed mortgage that would be similar to a 15-year mortgage.
If you're interested in learning more about my stance on this topic, I've already written about the benefits of paying down a mortgage early at length.
Interest Paid on a 30 Year Mortgage
To summarize this post, with a 30-year mortgage, you pay an insane (to me) amount of interest during the first several years making minimum payments. Combine this with the fact that most people will only keep their 30-year mortgage for 6 to 10 years before refinancing, moving, defaulting, or other reasons.
You will build up very little equity during the first ten years of a 30 year fixed mortgage, so many people start over with a new 30-year mortgage several times. Even if you don't start over, it takes 15 years to get to the point where you pay more towards principal in a month than interest.
Something not discussed earlier is the relationship between longer loan durations and price. Longer loan duration may make homes and cars more affordable every month in the short run; however, in the long run, the lower monthly payments stretched out over a more extended period usually results in higher overall prices.
You can especially see this happening in the auto industry, with loan duration increasing over the past decade, averaging almost seven years. Expect a future blog post at some point with further analysis on the relationship between longer loans and price.
Back on topic, the 15-year fixed mortgage comes at a higher monthly cost and may limit flexibility a bit, but the benefits outweigh the 30-year fixed mortgage in almost every other aspect. For example, interest rates are lower, equity is built more rapidly, and you will pay off your loan much faster.
Over the life of a $100,000, 30 year fixed mortgage at 4 percent, you'll pay $71,870 in total interest making minimum payments.
Over the life of a $100,000, 15 year fixed mortgage at 3 percent, you'll pay $24,305 in total interest making minimum payments.
So whether you can make extra payments on your mortgage or not, you should strongly consider a 15 year fixed mortgage instead of a 30-year. However, if you go with a 30-year mortgage for the payment flexibility, do your best to pay it off like a 15-year mortgage.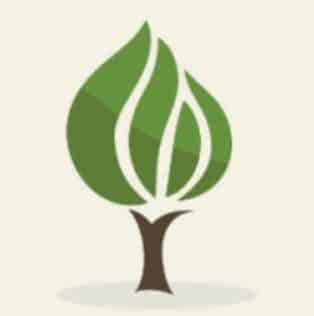 Mark is the founder of Financial Pilgrimage, a blog dedicated to helping young families pay down debt and live financially free. Mark has a Bachelor's degree in financial management and a Master's degree in economics and finance. He is a husband of one and father of two and calls St. Louis, MO, home. He also loves playing in old man baseball leagues, working out, and being anywhere near the water. Mark has been featured in Yahoo! Finance, NerdWallet, and the Plutus Awards Showcase.