Last week we loaded up the family and got on a plane for the first time since the pandemic to venture to the magical land of Disney World. Along with our family of four, my wife's brother's family of four joined us along with her parents. Trying to plan the cost of a Disney World Vacation with a party of 10 was no easy task. Thankfully, we did have help from a travel agent at Archer Luxury Travel, whose services came without an additional charge.
Here are the details of our stay:
5 nights at an on-property site (Pop Century)
3 park days (2 at Magic Kingdom; 1 at Epcot)
Flights are NOT included in costs since we booked on points
Costs in this post will only include my family of four, not the others we traveled with
Cost of a Disney World Vacation
Flights
We got a Southwest Airlines credit card with an 80,000-mile point bonus in anticipation of this trip. That, combined with other credit card reward points, allowed us to book flights for our family of four for less than $50. If we didn't have points, the tickets would have cost our family about $1,600 from St. Louis to Orlando.
I hesitate to talk about credit card reward points because I believe they do more harm than good for most people, so be cautious if you decide to take a similar route. If you don't meet the spending requirements or rack up a bunch of debt in the process, it completely negates any benefits. Even if you pay off your card every month, research shows that people spend more when using a credit card than cash or even a debit card.
Total Cost: $45 (~$1,600 without using points)
Hotel and Park Tickets
We decided to stay at Disney's Pop Century Resort. This property came highly recommended due to its location and kid-friendly setup. There were three pools, an arcade, and a food court. We didn't spend much time on-site, but it mainly was either at the pool or arcade when we did.
The rooms were kind of small, but Disney made the most of the space. One of the beds folded up into the wall and doubled as a table when up. There were lots of nooks and crannies for storage. Also, each room included a small fridge which came in handy.
I'm lumping hotel and park tickets together since we purchased both in the same package. We decided to go to three parks and spent one day just hanging out at the pool.
Day 1: Magic Kingdom
Day 2: Epcot
Day 3: Pool Day
Day 4: Magic Kingdom
Magic Kingdom is the best park if you're going with young children. They loved most of the rides, and there was plenty for them to do. It does seem like Epcot is trying to become more kid-friendly, though Epcot is mostly about food and drinks, which most young children don't appreciate.
A few newish rides, such as Frozen and Ratatouille, are more geared towards kids. We decided not to go to Hollywood Studios or Animal Kingdom since the feedback was that they were less kid-friendly than the other two parks.
We did elect for the premium rooms at Pop Century, which mostly meant a better location that wasn't as far of a walk. The total price for five nights at Pop Century and three days of park tickets for four people was $2,973. The back of napkin math says that the park tickets were about $1,250 and hotel room about $340 per night. Certainly not cheap, but the on-property experience was pleasant. The most significant benefit was all of the transportation options that we'll hit on below.
Total Cost: $2,973
Other Transportation
One of the best reasons to stay on property at Disney is all of the transportation options. We ended up taking a bus, monorail, ferry boat, and Skyliner at one point or another. In addition, the Disney Magic Express provided transportation to and from the airport at no charge, though my understanding is this will no longer be an option at the end of 2021. Instead, you'll need to either pay to use a 3rd party bus service or other options like Lyft, Uber, or rental car.
While on the property, we used the bus service the most. The busses to the parks frequently ran to and from the hotel to Magic Kingdom. In our experience, the waits were relatively short to Magic Kingdom but tended to be longer on the way back. We were able to take the Skyliner from Pop Century to Epcot, which was fantastic.
My kids thought it was another ride. However, it did end up breaking down on the day we were at Epcot, and some of our family ended up getting stuck for about an hour. So, if you are claustrophobic or afraid of heights, the Skyliner may not be the best option in case of a similar breakdown. Thankfully, our rides were smooth, and it only took about 20 minutes to get from Pop Century to Epcot.
Transportation does not typically have an additional charge when staying on a Disney property. And since we didn't have to rent a car while there our cost was relatively low. However, we did pay $42 for airport parking back home and tipped the bus driver to and from the airport $5 each way for helping with bags.
Total Cost: $52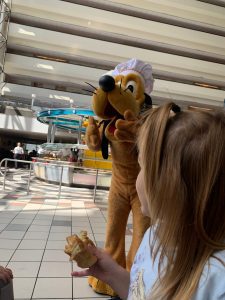 Food and Drink
The number of restaurant options is entirely overwhelming at Disney. There are food choices everywhere. Inside the parks, at Disney Springs, and at hotels. I was so thankful we used a Disney travel agent to help us navigate restaurants. She provided us with suggestions and even woke up early to make reservations to secure our spots. We ended up using four reservations and otherwise ate at the food court, snacked at the park, or ate in our hotel room.
I often have difficulty enjoying trips, knowing exactly how much money we're spending on stuff like food. I wish I weren't this way, but it is what it is. Something I did differently on this trip was handing my wife my credit card and asking her to pay for everything while we were there.
We had a rough number in our heads on what we planned to spend, but I didn't want to worry about getting the extra glass of wine at dinner. Surprisingly, this did make the trip much more enjoyable for me. In the end, we still spent less than expected.
Below is the cost breakdown:
Instacart: When our plane landed in Orlando, one of the first things we did was place an Instacart order. It was my first time using the service, and I was impressed with how easy it was to set up. We bought milk, fruit, granola bars, and other snacks. Of course, we purchased the items from Aldi. We ate these groceries for breakfast most days. We'd then snack at the park for lunch and usually had a nice dinner reservation. $67.32
 Paradiso 37: When we landed in Orlando on the first day, we immediately jumped on a shuttle and headed to Disney Springs for our first dinner reservation. Paradiso 37 was an excellent restaurant. The drinks were delicious (I had a giant margarita), and the steak I had for dinner was delicious. $138.20
Crystal Palace: This restaurant is located right in the heart of Magic Kingdom, just off Main Street. It's a buffet-style restaurant and was the first buffet I've been to since the pandemic started. I know a lot of people think buffets are gross, even pre-pandemic. However, I freaking LOVE buffets. This one didn't disappoint either. After a long day of walking around and standing in lines, I ate myself silly. It was awesome! $154.38
Epcot: On our second full day, we ventured to Epcot. We originally had dinner reservations at one of the restaurants, but after seeing all the great food all over, we ended up canceling. Instead, we just ate food there throughout the day. Most were in smaller portions allowing you to try many different options. I had fish and chips, sushi, pizza, and ice cream at one point. I enjoyed the experience. $142.76
Chef Mickey's: This place, located at Disney's Contemporary Resort, was a pain to get to our hotel, but it was worth it. We went to Chef Mickey's for brunch on our one non-park day, and it did not disappoint. The kids loved this place since Mickey, Minny, Goofy, Donald, and Pluto would come out to say hello and dance every few minutes. The food came out family-style and was terrific! Eggs, bacon, french toast, cheesy potatoes, and more. Highly recommend it if you have young children. $143.54
 Cinderella's Royal Table: For months leading up to our trip, our 3-year-old only talked about being able to go into "her castle." That, of course, meant Cinderella's castle at Magic Kingdom. Cinderella's castle was the one restaurant that we had to pre-pay for to make a reservation. The menu was a three-course meal with five entree options for adults. Kids could make their cupcakes for dessert, and I had one of the best chocolate mousse desserts ever. This was one of those experiences where it was cool to experience once, but I probably wouldn't do it again given the high cost. $280.42
Food Court and Other Misc Expenses: We packed snacks for most days at the parks but still splurged every once in a while for popcorn or cotton candy. The food court served breakfast and dinner a couple of times as well. We also bought a few fancy drinks at the pool a few times. 174.15
Total Cost: $1,101
Miscellaneous Costs
There were a few miscellaneous costs but not as many as I expected. We purchased magic bands ($40) and the memory maker ($160) in advance. The magic bands were connected to a credit card for purchases and could also open the hotel room door. They also had tickets and synced with the memory maker for photos on rides.
The memory maker allowed for pictures at the park. We bought this for our whole family of 10 as we could link our accounts together and ended up getting a few outstanding family photos. Before our trip, we were thinking about paying for family pictures back home anyway, so this was well worth the cost.
We also spent about $35 at the arcade and about $100 on souvenirs. The grandparents also bought the kids a few souvenirs, which are not included in the cost, and honestly, I don't want to know what they spent. It probably wasn't too much, though.
Total Cost: $335
Total Cost of a Disney World Vacation
Below is the final tally of our Disney trip.
Flights: $45 (would have cost about $1,600 without points)
Hotel and Park Tickets: $2,973
Other Transportation: $52
Food and Drink: $1,101
Miscellaneous Cost: $335
Grand Total Cost: $4,506 ($6,106 if we paid for flights)
Other Tips for a Disney Vacation:
Use a Disney travel agent. They are free to use and are tremendously helpful. Disney pays them for helping out, so their cost is baked into the price whether you use them or not.
Fast Pass for rides is no longer an option. Lightning Lane has replaced it, which is an add-on service to every ticket. Unfortunately, lightning Lane went live on October 19, 2021, which was a few days after our trip, so I don't have much insight into whether it was worth it.
Magic Bands are well worth the cost. It was so nice not having to fumble with ticket cards at the gates. Also, they are waterproof, so it was nice to go to the pool without a wallet or keys.
Make restaurant reservations 60 days before your trip. Wake up early (4 or 5 am) to ensure you get your preferred time slots. If you are working with a Disney travel agent, they should take care of this for you if you send them a list of restaurant preferences in advance. Reservations are required for any sit-down restaurants.
When we went in mid-October 2021, masks were required for any indoor locations on the property. I'd suggest bringing a lot of masks if this still applies. Masks stretch out and get gross with sweat.
We traveled with our nieces, who were 11 months and 2-years-old. Basically, everything was free for them. Once they turn three, that all goes out the window. I'm guessing we paid about $1,000 more bringing a 3-year-old instead of if she was still 2-years-old.
If you are traveling with other families, be sure to link your accounts on the My Disney Experience app. Again, your travel agent should help to set everything up. This app is your lifeline for everything at Disney, so make sure you spend some time exploring the app before your trip.
Bring or rent a stroller for any kids at minimum five and under. Our three-year-old needed it. Even our seven-year-old got tired of walking around. We didn't have a stroller specifically for him, but he tried to get in our one stroller every time our three-year-old wanted to walk. I also carried him towards the end of the day a few times.
Leaving the park and then returning may be a good idea, depending on your situation. For us, it took about 30-45 minutes to get to-and-from Magic Kingdom and our hotel. The first day we got there right as the park opened, then left around noon and returned around 4 pm. On our second day at Magic Kingdom, we arrived closer to 11 am and stayed all day (same with Epcot). We made it to the firework shows all three days, which is the highlight of the day. My preference was to arrive later and stay all day instead of leave and come back. The busses were stressful for me, so the fewer trips, the better.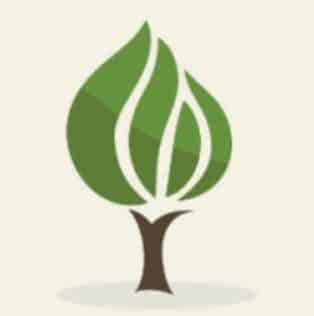 Mark is the founder of Financial Pilgrimage, a blog dedicated to helping young families pay down debt and live financially free. Mark has a Bachelor's degree in financial management and a Master's degree in economics and finance. He is a husband of one and father of two and calls St. Louis, MO, home. He also loves playing in old man baseball leagues, working out, and being anywhere near the water. Mark has been featured in Yahoo! Finance, NerdWallet, and the Plutus Awards Showcase.