This post includes several tactics we are using to teach our preschooler about money. These tactics are not new or groundbreaking, though already seem to be having a small impact after only a few months. I could go on about the benefits of financial literacy in general. It needs to be taught more in schools. And if schools aren't going to make it a priority, then it's up to us parents to ensure our kids grow up to be smart with money.
Our children will likely grow up much better off than me or my wife when we were younger. With all the positives that come with their situation, there are some negatives as well such as a lack of appreciation and entitlement. I want to give my kids a great life, but don't want to spoil them. That's why we're trying to get an early start to teach financial literacy in our house. The following are a few examples of how we're teaching our three year old about money.
Spending, Saving, and Giving
A few months ago we started paying our three year old a commission of five dollars per week to complete four chores every day. The chores include making his bed, feeding the cats, picking up his toys in the living room, and cleaning his room. Every day that he doesn't complete a chore he is supposed to lose one dollar.
We aren't as hard nosed with this approach as it sounds. There are plenty of days where we help him with his chores or look the other way if his room isn't perfect. There are other days where we ask him to feed the cats and if he refuses we end up taking a dollar away.
Overall, I'd say he completes his chores on his own about 60 to 70 percent of the time, which is pretty good for a three year old. The point isn't to strictly enforce the process at this point. It's more to help him make the connection between doing work and making money.
At the end of each week he puts $3 in the spending jar, $1 in the saving jar, and $1 in the giving jar. The jars are made of clear plastic so he can see the money adding up. We haven't spent any of the money in his jars yet, though with garage sale season coming up he'll be taking a few dollars out to buy what he wants.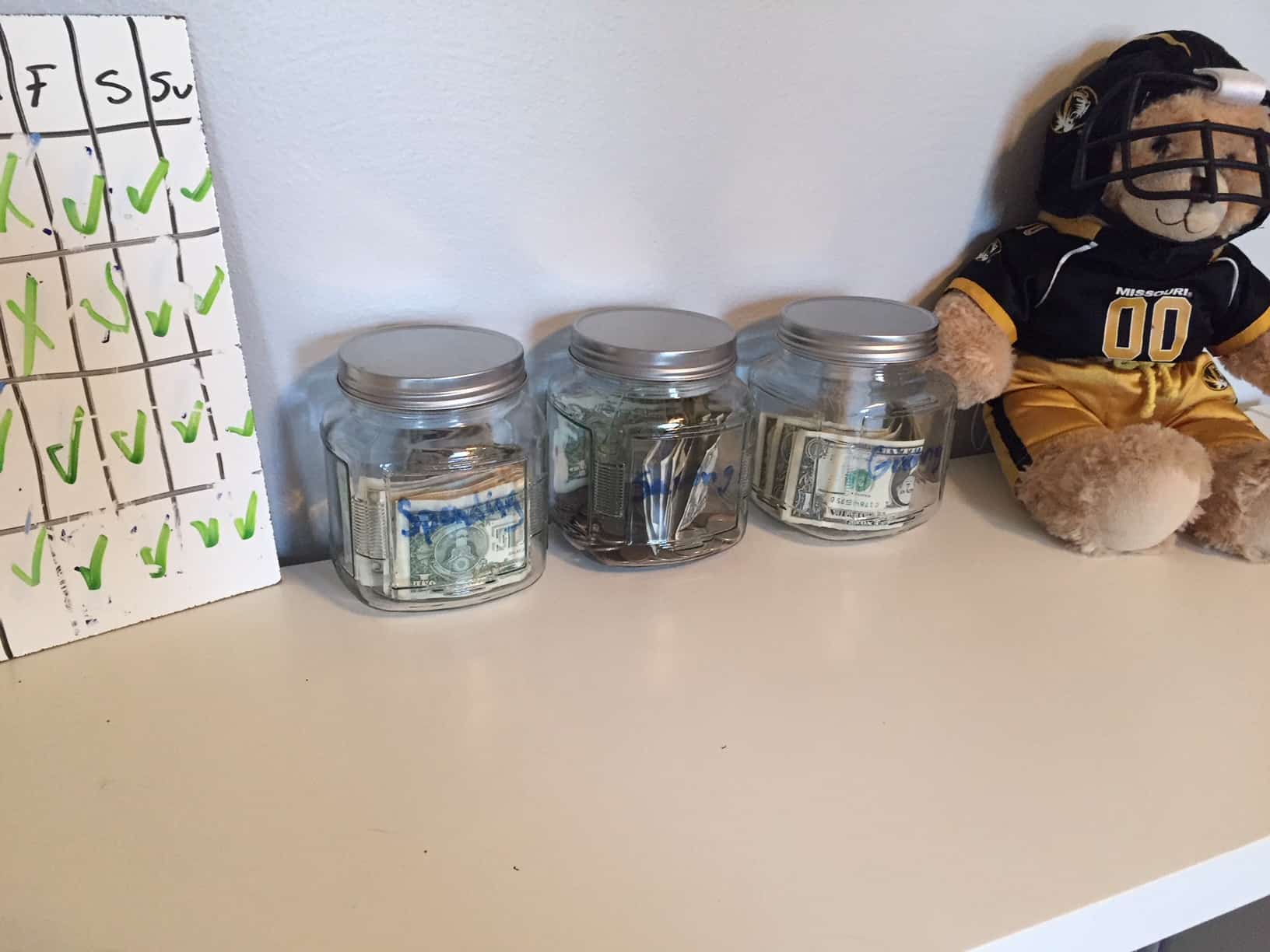 Individual Stocks
Late last year we emptied out our son's piggy bank for the first time. To our surprise he had collected almost $200. Most of the money was from birthday and Christmas gifts from the previous three years. He usually gets toys from family for birthdays and Christmas. Every once in a while someone has given him a $10 or $20 bill that went in his piggy bank.
We ended purchasing two individual stocks via the Robinhood app with his savings. This wasn't his decision, but he also didn't push back against the decision. Honestly, I'm not sure he knew exactly what we were talking about.
The Robinhood app was surprisingly easy to set up, and even easier to purchase the individual stocks. There are no fees to use the Robinhood app either.
The two stocks we ended up purchasing were Berkshire Hathaway (class B shares) and Under Armor. I don't think he is anywhere near ready to fully grasp the concept of stocks. However, I do sometimes make comments such as, "you are a part owner of Under Armor". In time hopefully these comments will start to make more sense allowing him to make the connection between every day products and the stock market.
Even though he hasn't shown much interest in the stocks yet, every once in a while he will ask to "see the numbers" on my phone. I'm pleased to say that the value of his "portfolio" has increased by about $20 since our original purchase. It's amusing to think of my three year old having a stock portfolio. 🙂
Going forward we will use his money from the saving jar to purchase additional individual stocks. We may even roll the dice with small cap or penny stocks since we'll likely be throwing less than $50 at new stocks. While I am personally more of an index fund investor, it would be more challenging to get him excited about investing in something like VTSAX (Vanguard's total stock market index fund). As he shows interest in products or services I will ask him if he'd like to be a part owner in X company. Again, I don't expect him to fully make the connection at his age but in time hopefully it makes sense.
Giving
We experienced a cool moment last weekend. We were at our Aunt's house and had completed an Easter egg hunt earlier in the day. Our son ended up with six or seven quarters that he planned to bring home for his jars. Instead, he decided to donate his shiny new quarters to a better cause.
Our Aunt goes on mission trips to Uganda every few years and showed him a small piggy bank. She explained that the money would be used to buy food for children in Uganda who are hungry. I was so proud as we watched him put his quarters in the piggy bank without being asked. He wanted to give his money so the children had food to eat.
I'm not sure if his action was the result of some of the things we've been teaching him. After all, we've only being doing this for a few months. However, it was a positive sign that even at a young age he understands that not everyone is as well off as we are. We will continue to do our best so our kids grow up to be generous and give back to those less fortunate.
How are you teaching your kids about money?
I'm hoping that by being intentional we can ensure our children are financially literate when they grow up. We still have a long way to go in this parenting thing, and every stage so far has had challenges. I know it gets more complex once they begin approaching the teenage years. Regardless, all we can do as parents is our best and hope that we can raise money smart kids who aren't spoiled little brats!
How are you teaching your children, nieces/nephews, or students about money?
Favorite Recent Content
Below are a few blogs, podcasts, or other content that I have recently enjoyed. You should check them out as well.
Congrats to Angela at Tread Lightly, Retire Early for making her podcast debut last week. She was interviewed on the Fire Drill and Countdown to FI podcasts. Angela has a great story and even better attitude about her pursuit of financial independence. She regularly shares great frugal and lifestyle tips on her blog.
Blog posts about giving are often my favorite. I especially enjoyed this recent post by Zencents titled It's Time to Triple My Charitable Giving (Again). I was especially surprised to learn that the lower income population (less than $50,000) tend to give a higher percentage of their income to charity compared to higher income groups.