It all started with a little tweet. A bit of a cry into the night. My color-loving, stick figure drawing friend, Mr. Burrito Bowl made a simple ask. Unable to attend FinCon 2019, he made a plea for someone, anyone, to transport his prized business cards to Washington DC.
For what? I wasn't sure, but it sounded interesting.
Mr. Burrito Bowl had been growing on me. His unique style and amazing artistic talents made him a bit different than anyone else in the personal finance community. He's finding a way to stand out in a crowded niche. Plus, early in his blogging career he was deemed "the best blogger name" by Paula Pant at Afford Anything.
Coincidentally, I had recently finalized my plans to attend FinCon when I saw his tweet. My conference ticket had been purchased a year prior, but I wasn't really interested in paying full price for accommodations. I made a deal with myself that if I could find roommates I'd try to attend. I noticed on the FinCon roommate listing that Mr. Jamie Griffin was looking for a roommate. I had met Jamie the year prior and recalled a conversation about us having a daughter about the same age. He seemed nice enough to fly across the country to share a room with.
With that I also accepted the great responsibility of transporting Mr. Burrito Bowl's business cards with me to DC. It was my first unofficial job as a publicist. He probably couldn't have picked a worse person for the task if we're being honest. As a semi-introverted money nerd who is terrible at networking and has some social anxiety issues, he could have picked anyone else to do a better job. Nevertheless, I was up for the challenge.
Getting Out Of Your Comfort Zone at FinCon 2019
If you're not familiar with FinCon, it's a conference for financial influencers, such as bloggers and podcasters, to create better content, reach their audience, and make more money.
Here's the deal folks, my blog is strictly a hobby at this point. I don't really get the traffic to make money. Even if I did, potential conflicts of interest with my day job makes partnering with other brands basically a no-go. And to be honest, I enjoy this blog being a hobby which allows me to say whatever is on my mind.
So why in the world would I take three days off work, leave my family at home for five days, and spend a bunch of money? It's a good question that I don't quite know the answer to.
Part of the reason to attend FinCon 2019 was to meet some really awesome people that I've had the chance to connect with on social media and through my blog. However, there's more to it. The only way I can explain it is I felt a pull to be there. I'm not sure how, but I feel like attending FinCon will lead to something bigger down the line.
Call it fate, or destiny, or God. I don't quite know and I realize this sounds really dumb. But if I'm being a bit vulnerable, I believe that part of my personal mission is to help people think differently about money allowing others to improve their financial lives. Subliminally, I'm sure my trip to FinCon has something to do with filling this purpose, even if I'm not quite sure yet.
Being at FinCon 2019 allowed me to step out of my comfort zone in ways that are tough to explain. I stayed in a hotel room with one person I briefly met in person and another I never met, forced myself to interact all-day every day and never retreated to my room for even a quick nap, and did my best to introduce myself to as many people as possible.
If there's one thing I truly believe it's that we as humans grow the most when we take a step out of our comfort zone. Who knows where this path may lead. Maybe my mission is to simply help one family completely change their financial lives. Maybe it's to impact millions. Until then I will continue to put my voice out into the world in the hopes that it makes a difference.
So when Mr. Burrito Bowl asked someone to take his business cards to FinCon 2019, my first reaction was that I'd love to help a fellow blogger get a little more attention. However, deep down I knew this seemingly minor task would allow me to overcome my shyness and social anxiety and meet more people. Plus it ended up being a lot of fun.
I joked on Twitter before-hand that I would make my best pitches to personal finance superstars. When my pitches fell flat I would then slide them a Mr. Burrito Bowl business card. While I of course didn't actually do that, I did have some fun conversations about how this would potentially go down.
FinCon was a really good time. I met a lot of internet friends that I can now call real life friends. It also helped me develop a strategy for how to move forward with this hobby of a blog going forward.
Below is a rundown of my week. There isn't much helpful personal finance advice in this article. This post is basically a run down of a bunch of different people I met that you may or may not know. Still, this is my way of memorializing the week at FinCon 2019. This will probably be my least helpful post for my readers, so advance at your own risk. If you want to skip to the bottom you can read about my takeaways and FinCon plans for next year.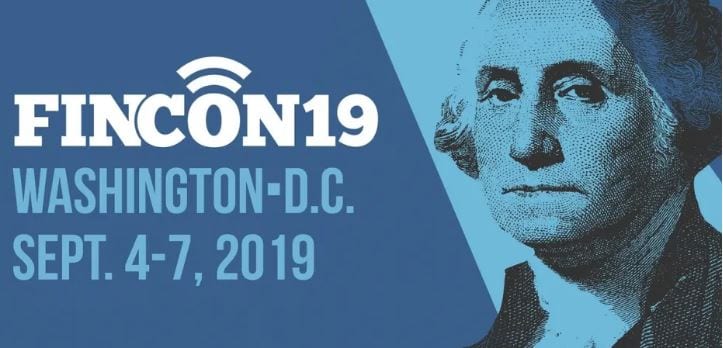 Wednesday
Check-in
FinCon 2019 officially kicked off at noon on Wednesday, September 4. There we're several pre FinCon 2019 events on Tuesday but I couldn't bring myself to fly out a day early. My five year old was off school so I took the day off work and we went to the zoo instead.
Upon arriving to the hotel, I immediately had the chance to chat with several folks while checking in. In front of my was Mad Money Monster, a podcasting duo from Pennsylvania. Next, Pete McPherson from Do You Even Blog walked by and I had a quick conversation with him. I also chatted economics a bit with Big ERN from Early Retirement Now and had the chance to say hello to one of my favorites in Andy Hill from Marriage, Kids, and Money.
By about 2 pm I was checked in and ready to go. I knew that I was volunteering the next day on the welcome team, so my first goal was to get the lay of the land in the conference center. I wondered around a bit, grabbed my FinCon t-shirt, and went to a session or two.
Around 5:30 I went to my room and met up with my roommate, Jamie. He let me know of a debt-free meet up for Instagram influencers. I don't use Instagram but it seemed like a good time. We hung out there for a while, then caught a shuttle to the opening night party.
Opening Night Party
The opening night party was a lot for me to take in. The music was loud and I was struggling to find people I knew. Everyone had name badges, but the low lighting made it tough to read the small print. I hung out for a while with Josh Overmyer, who lived up to expectations as one of the coolest people at FinCon. I also chatted with Smile and Conquer, who happens to be a huge Edmonton Oilers fan. She is super cool as well and I committed that my favorite Canadian hockey team would be the Oilers (and bragged a bit about the Stanley Cup Champion Blues). I was also able to catch fellow St. Louisan Travis Hornsby of Student Loan Planner and Erik from Mastermind Within on the top floor.
Upon returning to the shuttle bus it started pouring as we were waiting outside. I was completely drenched  by the time I got on the bus. I set next to someone I didn't know and there was a mutually silent understanding that we were just going to not talk to each other after the long and exhausting day.
After getting back to the hotel Jamie and I debated going downstairs to hang out more. We both decided against it. Our third roommate, Adam Kol, still hadn't come back yet, so it was kind of weird going to bed knowing that a complete stranger (to me) would be coming into our room. I actually had some weird dreams actually about what he would look like. 😂
The worst part of the day was I gave out exactly zero of Mr. Burrito Bowl's cards.
I told you I was a terrible publicist.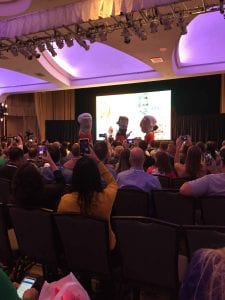 Thursday
I woke up around 6:45 am and went for a quick run before getting the day started. I debated joining Andy Hill's 10k run, but didn't want to die on the second day of FinCon. A 5k may have been doable, but I don't think I've ever run 10k in one stint in my life.
The run took a bit longer than expected since I also had to stop at Safeway to get toothpaste. The keynote was scheduled to kickoff at 8:30 am, so I missed my free breakfast in the lobby as a result of having Hilton gold status. We would take advantage f the free breakfast the next two days.
The keynote with Ramit Sethi was really good. He called out the financial independence community for too focused on the frugal side of the personal finance equation. Instead, he said that we should spend more time focusing on increasing income and what we want to spend on. His key message was that we should spend extravagantly on the things we love, and ruthlessly cut the things we don't care about.
While Ramit's keynote was great, a FinCon volunteer stole the show and was the talk of the town for the rest of the week. Wanting to prove a point, Ramit asked one of the FinCon volunteers (Amy) to join him on stage. He asked her several questions about money to demonstrate that outside of the personal finance nerd-sphere, most people don't care about this stuff. However, when he started to ask questions that connected money to her life you could see connections being made. Ramit asked what Amy would do with an increase in income and she replied that she would pay off all her debt… and then take a nap.
You just kind of had to be there, but the timing of her comment was great.
By the way, don't tell Amy but Steve Stewart is selling t-shirts with this slogan and all proceeds will go to paying off her debt so she can finally take that nap.
Volunteering
Immediately after the keynote I was scheduled to volunteer from 10 to noon. For a while I hung out near one of the doorways directing traffic. This was somewhat hilarious since I knew where nothing was. I'm sure a few people left frustrated when they were pointed in the wrong direction. Oh well.
In between sessions I was able to track down Military Dollar, who was kind enough to make badge stickers for several attendees. Having a sticker of my precious tree logo was so clutch the rest of the week. Many times I would tell people the name of my blog and they would blankly stare back at me, but would immediately recognize the logo. I also had the chance to meet Financial Mechanic and Dragon Guy/Gal. I believe they were the very first recipients of a Mr. Burrito Bowl business card.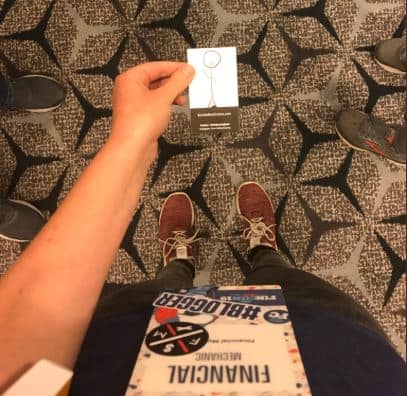 Last year I wrote a post on the Top 10 Things Every FinCon Rookie Should Know. One thing I would add to the list (maybe I'll update it sometime) is to volunteer if you're a newbie. This was a great way to meet people. Standing around awkwardly and giving people bad directions was my job, to where I would have probably been just standing around awkwardly anyway.
Another perk of volunteering is free lunch. We had pizza on Thursday and Chick-Fil-A on Friday. Between free breakfast and lunch, I spent under $100 on food for the five days. (Please note, this does not include beer.)
The Plutus Foundation
After lunch I met up with Plutus Foundation creator Harlan Landes. Many people in the blogger sphere are familiar with the Plutus Awards, which we'll hit on later. The Plutus Foundation provides grant money and resources to financial media to create, develop, and administer programs to that enhance financial literacy.
It really is an impressive organization and I am fully behind the cause. After speaking with Harlan it's clear they are looking to take the Plutus Foundation to the next level. I'm hoping to be involved in some way, even if that means contributing content on occasion. I mean, I write for free on my blog, may as well offer up my free services to help a great cause. I'm excited to see what will come from this meeting.
The Courtyard
At the Hilton property where FinCon 2019 was held, there was a large courtyard outside of the meeting space. This turned out to be a great gathering spot and I met a lot of people out there. Almost too many to name as I'm sure I'll forget a few. I had a great conversation with One Frugal Gal, who it turns out is an OG blogger. I said hello to Stephonee of Poorer than You and the Money Middletons, who was the nicest person to me at FinCon last year and invited me to lunch on my first day when I was walking around like a deer in headlights.
Angela from Tread Lightly, Retire Early and Elyssa from Brave Saver chatted about how we've all been married for nearly 10 years and shared stories about our kids.
Dinner
After spending a couple hours in the courtyard A Purple Life was kind enough to invite me to dinner with several others including Financial Mechanic, The Fioneers (both of them), Clint from Wallet Wise Guy (who is killing it as a freelancer), Becky from TwentyFree, Modest Millionaires, and MoneyManifesto. I enjoyed some overpriced pizza and decided that was the last time I would be eating at the hotel for dinner. The conversation was great as I had the opportunity to learn more about these previously online friends. Have I mentioned how awesome it is to meet these people in real life?
Playing With Fire Documentary
I was really excited to learn that there would be a FinCon 2019 exclusive showing of the Playing with FIRE Documentary. There was a showing of the documentary here in St. Louis a couple months ago but we were unable to attend. Playing with FIRE is touted as the first ever financial independence movie. It's a story of a young family who goes from living paycheck-to-paycheck in an expensive city to pursuing financial independence.
The movie was entertaining. However, I do question how convincing it would be for individuals with little knowledge of the FIRE community. I don't want to spoil the movie but it involves uprooting their family to temporarily move in with their parents, only to relocate to a not-so-low-cost-of-living area anyway.
After the movie, there was a panel with the stars from the movie and several of the more popular personal finance personalities including Paula Pant, J.D. Roth, Grant Sabatier, Jonathan and Brad from ChooseFI, and Julien from rich & REGULAR. During the Q&A I really wanted to ask if the producers were offended by another movie called Playing with Fire, staring John Cena, coming out in mainstream theaters in the fall.
During the documentary I had the opportunity to sit next to ShePicksUpPennies and we told stories about our young children. After the movie I hung out in the lobby for a bit before calling it a night.
I was able to give out about a half dozen Mr. Burrito Bowl cards on Thursday. A few folks posted to twitter and were entered for a secret prize. While not my best day as a make-shift publicist, it also wasn't my worst!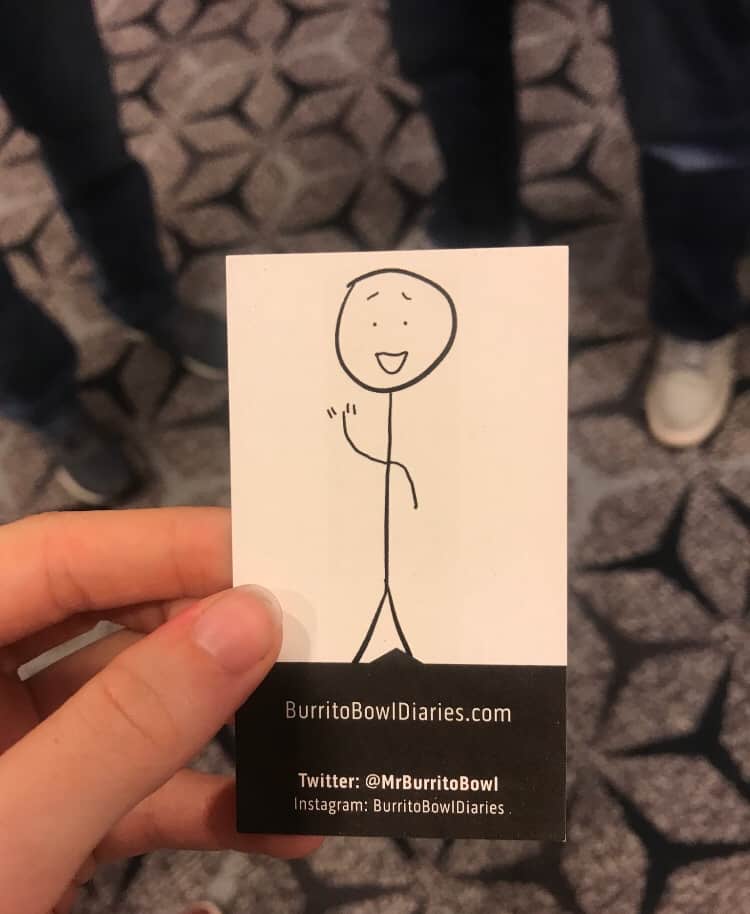 Friday
Mr. Jamie Griffin and I weren't missing another day of free breakfast, so we ended up heading down to the restaurant lobby around 8:30 am. Immediately after breakfast I was scheduled for another two hour block of volunteering. This time I was placed by the door to the expo center. I was a bit more familiar with the conference center by then and was able to answer more questions correctly compared to the day before.
I made lots of awkward introductions, gave out a few Mr. Burrito Bowl cards and then moved on. I quickly grabbed lunch, then headed out to join a lunch meet-up with Pete from Do You Even Blog. Jamie was there along with Raina (Pete's Community Manager), Jenny from Good Life Better, Denis from Chain of Wealth, and Debt Ascent. It was a great group and I enjoyed learning a bit more about changes Pete is making to his blogging platform re-branded as Online Impact.
I signed up to volunteer for the Plutus Awards as well, so cut out of lunch a bit early for the rehearsal. My job would be to escort winners from the stage to the back room to get their photos taken and to be interviewed.
Before attending the Plutus awards I met up with Marc from Vital Dollar and Riley from the Young and the Invested. Marc and I chatted in the courtyard about blogging, family, and FinCon for about 45 minutes and then Riley joined us. This was one of my favorite conversations of the weekend. It was awesome to get to know them both better, and I picked up a few blogging tips along the way. Both of these guys are killing it professionally and on their blogs.
ChooseFI / Afford Anything Fundraiser
Also prior to the Plutus Awards, there was a fundraiser for Choose FI's new foundation to help spread financial literacy. This event was pretty cool to attend to learn more about a new foundation. One of my passions is spreading financial literacy and between The Plutus Foundation and the ChooseFI foundation there is so much great work going on in this area.
During the session Andy Hill and I were able to chat about our blogs and families. Andy's site is Marriage, Kids, and Money, which is in a similar niche as myself. Andy's podcast is one of my favorites and I am continually inspired by his story and success.
I chatted with The Happy Frugals, Dillon from Dollar Revolution, and the Old Guys. While chatting with the Old Guys they mentioned reading a FinCon recap from last year that suggested putting a logo on their badge. Turns out it was my post. Kudos to Chief Mom Officer for the idea.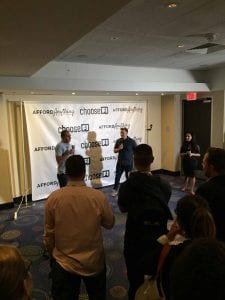 Plutus Awards
The Plutus Awards may have been my favorite part of the weekend. I had the opportunity to be on the Plutus Awards panel to select the nominees and vote on the winners along with a few dozen other panelists. Being a blogger, I know how much hard work goes into producing content and building an audience. It was so great to see the excitement on the faces of the winners as they walked off the stage.
The Plutus Awards were hosted by Sandy Smith from Yes I Am Cheap and Jordan Cox, Britain's Coupon Kid. Apparently Sandy had been nominated for Plutus Awards 19 times and somehow never won. She was the Susan Lucci of the Plutus, until this year. Not only did she win one award, she won THREE including the lifetime achievement award. Each win was a special moment.
You can view this link for the full list of award winners. While I'm super proud of of all the winners, some of my favorites were The $76k Project; Tread Lightly, Retire Early; Marriage, Kids, and Money; Do You Even Blog; The Fioneers; and A Purple Life.
Plutus Awards After Party
After the Plutus Awards there was an after party/reception which was a lot of fun. I had the opportunity to meet Zach from Four Pillar Freedom. He recently quit his job to run his businesses full time. Another person I was excited to chat with was Frugality and Freedom who now lives in New Zealand (originally from Australia). She is coming off a year of traveling around the United States. Her story is fascinating and you should check out her blog.
Many of the other folks I had met previously in the week were there as well. My job as a publicist took a slightly different turn as we convinced TwentyFree to become more active on Twitter. We then had to make a big spectacle about it as we asked everyone we came in contact with to follow her.
Others that I had the chance to meet included Bob from Tawcan, Mark from My Own Advisor, Bob the Frugal Fellow, Shawn the New Millennial Investor, Moriah from Our Table For Two (met her earlier in the week as well and had a great conversation), and many more. Have I mentioned that meeting online friends is kind of weird but also awesome?
After hanging out in the lobby after the award ceremony, I decided to call it a night. This was probably my best day as Mr. Burrito Bowl's publicist as several folks posted their business cards to Twitter. I also picked up a potential new client in TwentyFree.
By the way, my bold prediction is that TwentyFree wins a Plutus Award next year.
Saturday
Alright, we made it to Saturday. I did not follow any of my advice from last year and took no naps nor had introvert time. I was on the go pretty much all week and was still going strong. There was too much to do and too many people still to meet. Honestly, FinCon was nothing compared to working all day and then hanging with my two young children at home. I love them, but they are way more exhausting.
While we're on random topics, I also need to mention my terrible packing skills. I seriously packed like eight collared shirts. In my recap last year I mentioned how wearing a t-shirt and tennis shoes felt a little under-dressed for the conference. So of course I wore nothing but a t-shirt, jeans, and tennis shoes all week. Most of the t-shirts were received during the week. Not one collared shirt was worn all week.
Mentor Meeting
One of the best things FinCon does is pairs up inexperienced bloggers like me with gurus in the field. After enjoying free breakfast with my new friend Jamie, I was off to meet with my mentor. Somehow I was fortunate to get paired up with Tom Drake of Maple Money. This dude is legit. He operates the most popular blog in Canada and is a 50/50 partner in Get Rich Slowly, which is one of the most popular US blogs. The hour I was able to spend with him was worth the cost of my ticket alone. At the end I'll mention my next steps for my blog. Several of my next steps were directly a result of the few minutes I go to spend with Tom.
On Saturday lunch was with people in our local area. Podcast editing legend Steve Stewart led the local meetup for St. Louis. We walked down the street and grabbed lunch at a local restaurant. Travis Hornsby and his brother joined us along with several others from the St. Louis and Kansas City areas.
After lunch I walked up to the Safeway to grab a 6 pack of beer for the evening. I had barely had any alcohol the nights prior (maybe one or two drinks a day) but figured the last night would involve a bit more.
After getting back to the conference center, I decided to attend a few sessions. Throughout the week I attended about a half dozen sessions. The first of two on that Saturday was on growing an Instagram following. I don't really do Instagram but it was still interesting. The second was with Talaat and Tai from His and Her Money. I love their style. They treat their work as a ministry and aren't afraid to wear their faith on their sleeve. They also had really great advice about how to build a brand. So inspiring!
I also had the opportunity to chat for a bit with Daniella from iliketodabble. She is another St. Louisan and seems like a super awesome person. She was even kind enough to give me her "Personal Finance is Personal" tumbler that she didn't have room in her bag to bring home.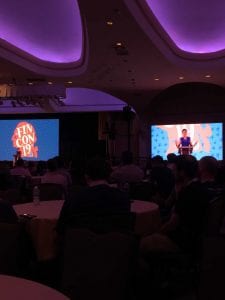 Closing Keynote
The closing keynote took place on the main stage at the Hilton conference center. This location is somewhat famous. It's where the annual White House correspondent's dinner takes place. It's also reportedly the location where Donald Trump decided to run for president and Barack Obama had the famous mic drop.
The opening talk featured Cat Alford. Her message was about all the "no" messages she heard before the first "yes". As someone who has never dealt with rejection well, this was a message I needed to hear.
The keynote featured Sharon Epperson, who is a Senior Personal Finance Correspondent for CNBC. The focus of her talk was on having an emergency fund and disability insurance. Several years ago Sharon had a brain aneurysm which left her unable to work for a long period of time, and nearly killed her.
Her talk was much different than any of the others at FinCon. It was a reminder that life can change in an instant. Having your finances in order can help reduce the stress in an already stressful situation like this one.
Sharon's story hit especially close to home for me. My wife had a brain aneurysm as a teenager. It nearly killed her as well. She required brain surgery after and as a result had to learn to walk and talk all over again. For years she dealt with grand mal seizures. Thankfully she has been seizure-free for five and a half years. Her last one was on the day our son was born. Sharon's talk was a reminder of how lucky we are.
Last Dinner
After the keynote and before the closing party Jamie, Adam, and I walked down to a local market/restaurant to grab food. Somehow I had ended up with my own bed every night in the hotel so I bought them beers to get over my guilt.
The food was good but the conversations were even better. We talked about Adam's financial coaching business, which was really interesting. He has a lot of passion in this space and no doubt he will be successful. Jamie is pursuing a few different side hustles to supplement his and his wife's teaching salaries. Such as good time and I feel fortunate to have made two new friends.
FinCon 2019 Closing Party
You know you're staring to get old when you complain about loud music to everyone that will listen. While I used to go out regularly in my 20s the club scene was never really my thing. I don't like having to yell over the music to talk to someone and I am an awful dancer.
With that being said, some of the best conversations you'll have at FinCon are the random encounters while waiting in line. I found that to be true over and over again throughout the week. I hung around the closing party long enough to use my two free drink tickets. With my first one I had the chance to chat with Robert from the College Investor, who is another FinCon vet. I honestly don't remember what we talked about but do remember a lot of laughing. My second pass through the line I hung with Stephonee who is one of my favorite people in the community.
After finishing my second drink I got word that there was a "secret party" somewhere. As long as it was quiet I was in. Thankfully others were looking to escape the loud music as well. There was a gathering of about 25 people in a conference room. I was a little FinCon start struck as it included J.D. Roth, Tanya Hester, Bitches Get Riches, and many more. I just sat back and listened as they told stories.
After a while we got kicked out of the conference room and we relocated to an open space in the lower level of the hotel. We pulled a bunch of couches around in a circle and had conversations for hours. Many of the individuals I've mentioned earlier were there. My favorite conversation was with Gwen of Fiery Millennials. She is a huge St. Louis Cardinals fan, as am I. She's the only die hard Cardinals fan I know about in the community so we chatted for a while about the current season and past success.
This was the perfect night cap to a great week.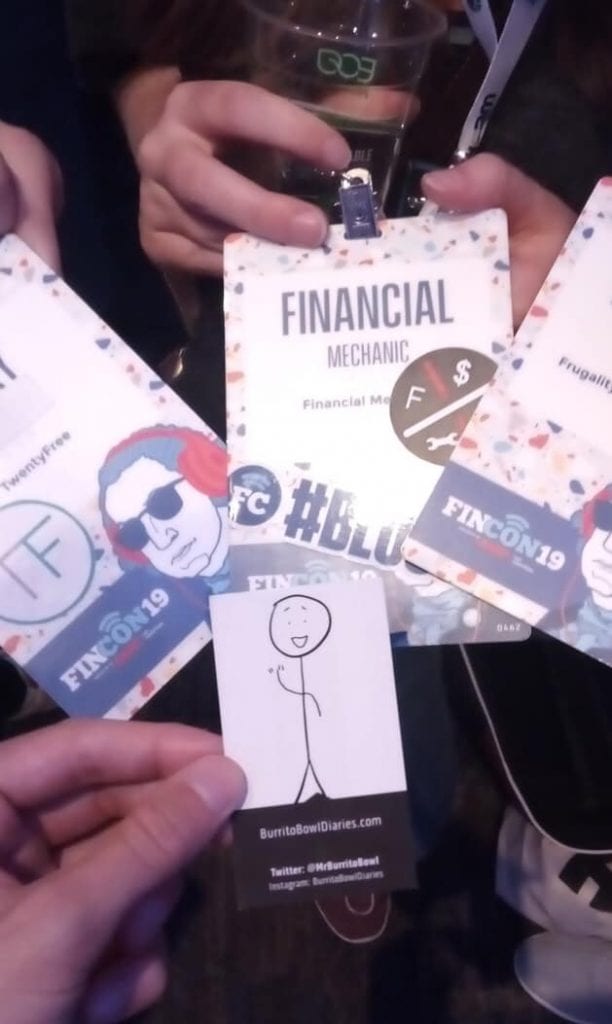 Takeaways and Next Steps from FinCon 2019
I learned so much being at FinCon this year. As with most conferences or training courses, if you try to implement everything then nothing will get done. Therefore, I'm going to set what I think are realistic goals to achieve through end of year. I'm going to need you all to help hold me accountable (calling A Purple Life).
1) Look for opportunities to get involved with the great charitable and community initiatives shared at FinCon, including The Plutus Foundation, ChooseFI Foundation, and StopthePop.
2) Hire on Upwork or Fiverr to help with design work. This may include new Pinterest Pin designs, Twitter header, or other designs for my site. I love my brand logo, but much of the rest can be improved.
3) Sign up for 7 day trial to Ahrefs and spend time doing keyword research. Develop a list of at least 100 potential topics to write about.
4) Switch hosting provider from WordPress.com to SiteGround. I've been struggling to increase my site speed on WordPress so it's time to move to something different.
5) Implement new theme (Genesis?) and explore using Elementor to improve my overall site design.
6) Create welcome email sequence for new email subscribers.
I never thought I would care much about SEO, design, or site speed. However, what I'm realizing is if I want to get my message out into the world these are important tools that will help. I'm not interested in making money at this point, but I spend a lot of time on this blog and it would be great to have more readers. The end goal is to help young families pay down debt and live financially free and the only way to do that is by connecting with others.
FinCon 2019 Sounded Awesome! Surely You Are Planning to Go Next Year!?
Actually, I'm not.
As much as I want to, next year isn't going to work out unless things change significantly.
Going to FinCon is a big sacrifice, especially for a hobby blogger. For those operating a business in most cases FinCon pays for itself several times over. The opportunities to learn, build relationships, and connect with brands is incredible. FinCon is the conference to go to if you're looking to build an online business in the personal finance space.
I won't bore you with all the details on why I won't be attending (this post is long enough already). The main reason is because we have two destination weddings to attend next year (one in Ireland!) And FinCon is expensive, even when you take cost cutting measures like I did this year. Overall I spent about $800 which included:
Hotel: $370 (stayed at the hotel with two roommates)
Flight: $11 (flew on Southwest using points
Food: $100 (I expected to spend more, but free breakfast and a few free lunches and dinners really helped)
FinCon Ticket: $200 (I bought last year right after the conference at the lowest price)
Beer, Uber, Metro, etc.: $100 (Only spent about $50 on alcohol since I didn't drink much except for Saturday)
In addition to the cost there was a lot of dad guilt. First, Ms. FP had to be on full duty taking care of our two young children. Second, the three vacation days I used to attend FinCon 2019 could have been spent off work hanging out with my kids.
Last but not least, next year the Financial Freedom Summit will be taking place right here in St. Louis. If I'm going to attend an event why not go to the one that's less than 10 miles from my house!? While FinCon is more about business-to-business connections, the Financial Freedom Summit will be more about connecting influencers to the general public with an interest in financial independence. It sounds like an awesome event and I'm looking forward to it.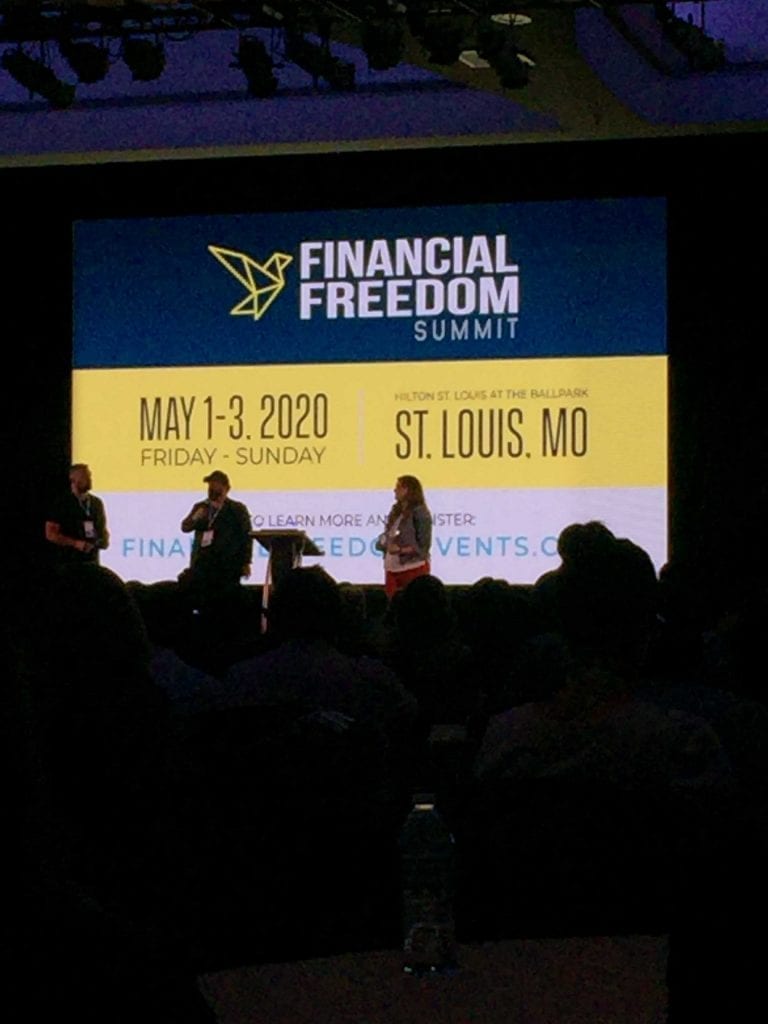 In closing, if you've made it this far in this post you deserve an award or something. I usually try to write content with the end user in mind. This article was purely a selfish way for me to memorialize my week at FinCon 2019. Hopefully you found at least one nugget of helpful information. Also, if you are attending a future FinCon for the first time, be sure to check out my post from last year with helpful tips for rookies. I didn't follow some of my advice but maybe you will!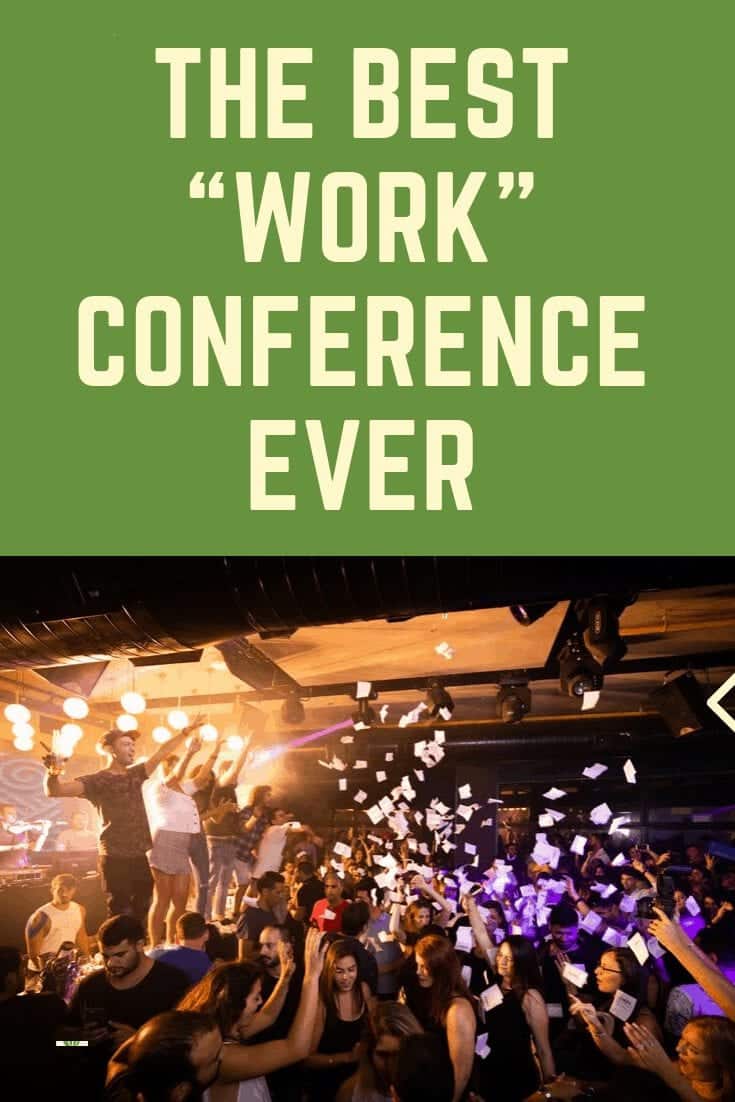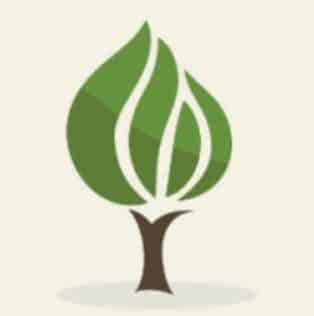 Mark is the founder of Financial Pilgrimage, a blog dedicated to helping young families pay down debt and live financially free. Mark has a Bachelor's degree in financial management and a Master's degree in economics and finance. He is a husband of one and father of two and calls St. Louis, MO, home. He also loves playing in old man baseball leagues, working out, and being anywhere near the water. Mark has been featured in Yahoo! Finance, NerdWallet, and the Plutus Awards Showcase.