For the past two years, our home has been mostly a construction zone as we've made some long-overdue renovations. The first big update was to our 50-year-old kitchen in December 2018. Then, last year, our basement flooded which was the nudge we needed to finally update our basement. After nearly 18 months of constant renovations, we're getting close to having our home fully updated. It's only taken us 12 years of living here to get to this point.
A longer post about our basement remodel will come at some point. It has involved complete waterproofing including installing a sub-pump, mold removal, ripping out floors, ceiling, and walls, and then putting everything back together with new stuff. This post is going to focus on one very specific aspect: updates to an old wooden door (several actually) all for less than $100 per door.
When I looked up estimates to replace interior doors, the average price was around $600-$700 per door. Multiply that by four doors in the basement and eight doors upstairs. It adds up. In the end, finishing these doors myself will save thousands of dollars.
Before you read on, please know that I am not an expert on this subject. In fact, I'm not very handy at all so the fact that I have been able to figure this out is nothing short of a miracle. The steps below reflect what I've learned from watching a few YouTube videos and reading articles.
With that being said, the steps reflect the exact process that I've gone through to update the doors myself. To achieve the cost of less than $100 per door, I'm going to assume that you have basic tools for the job. I'll be sure to call out what tools I already had available and what I had to go out and purchase for this job.
Step 1: Remove Door from Hinges and Prep Door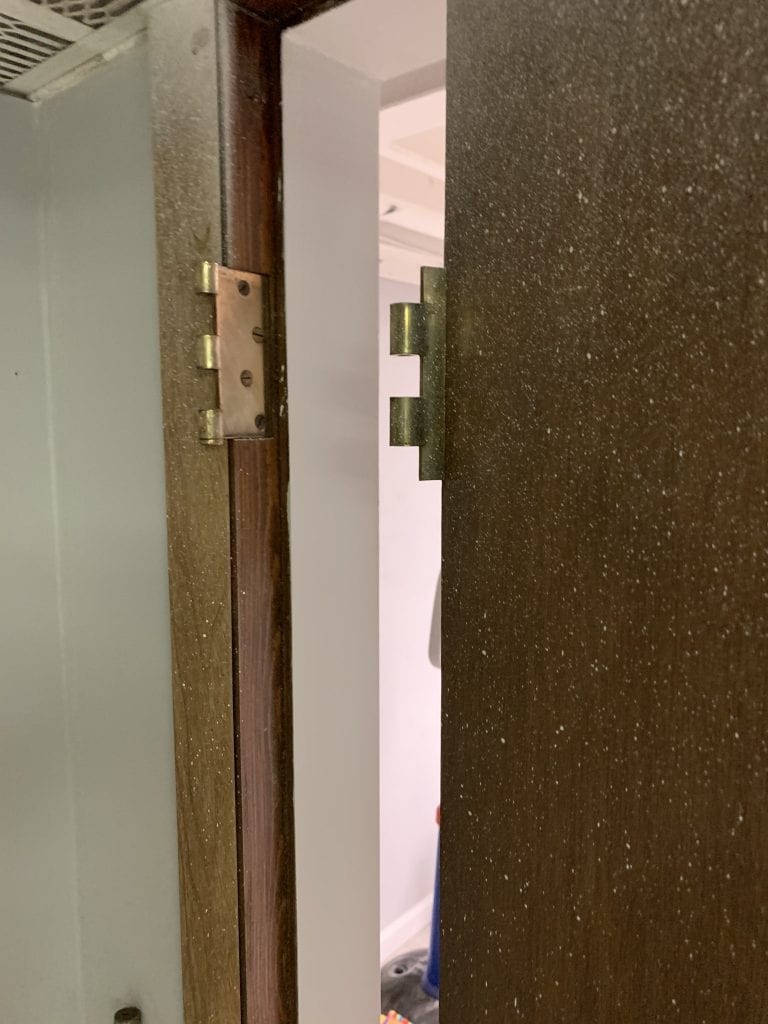 This one is relatively straightforward. Take a flat-head screwdriver and pop up the hinges of the door. Before you purchase replacement parts, make sure to note whether the hinges require three or four screws and purchase replacement parts appropriately. Removing the door from its hinges is not a requirement but it makes painting much easier. Plus, if you are replacing the hardware or painting the trim, you may as well lie the door flat to keep the paint from running.
Be sure to wipe down the door to remove any dust before getting started. If your door has any blemishes that you'd like to smooth over, now would be a great time to apply joint compound (mud) to fill in any gaps. Don't worry about being perfect when applying as you'll be sanding down the area a couple of times. I know several of our doors had chips and dings, especially near the bottoms. The joint compound helps to make the door look good as new.
Be sure to remove all hardware from your door before beginning. This includes the doorknob and hinges. Most doorknobs have outward-facing screws that can easily be removed. If there are no visible screws, there will likely be a small slot towards the base of the knob that you can use a flat-head screwdriver to pop off.
Tools and Materials Needed:
Flat-head screwdriver
2 Sawhorses (or similar)
Rags
Joint Compound (optional)
Step 2: Prime Back Side of Door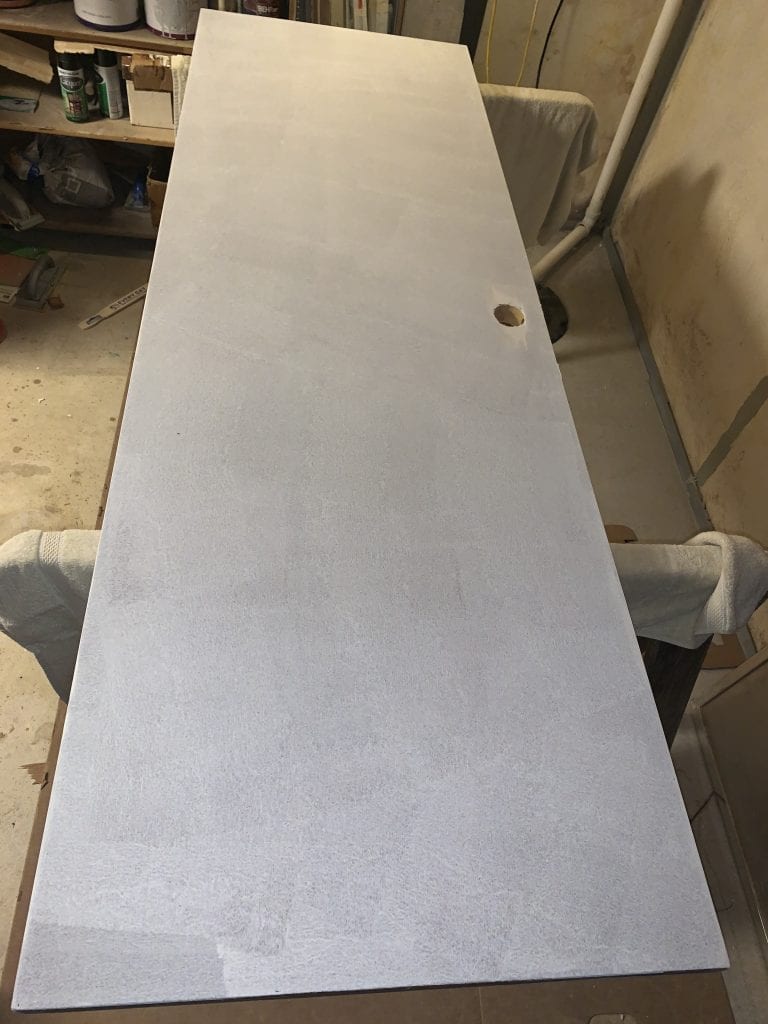 Something you'll want to decide before starting is if you want to add trim to one side or both sides of the door. For two of our old wood doors, we are only adding trim to one side since the backside will not be visible in most situations.
Once you have the door removed from the hinges and hardware removed, you're ready to get to work.
Before you start priming you'll want to wipe down the door and sand it. Make sure you sand down the sides of the doors as well. I used 120 grit sandpaper and this relatively inexpensive Ryobi sander. You can also sand by hand if you don't have a sanding tool.
Pro Tip: If you are planning to update multiple doors, put your paint pans in a trash bag in between sessions. I had one pan for paint and one for primer. Having individual rollers for each makes it much easier as well.
After you sand and wipe down the surface, it's now time to apply the first coat of primer. I used a standard roller brush designed for smooth surfaces. Two coats of primer were applied and I usually waited at least three hours before applying the second coat.
Pro Tip: If you use a roller to paint the sides of the door as well, be sure to wipe the underside of the door with a rag. Otherwise, the primer will drip and the other side of the door will need to be sanded more thoroughly around the edges.
Tools and Materials Needed:
Primer (We used Killz)
Roller paintbrush
Paint pan
Trash bags to cover paint pans
120 grit sandpaper
Rags
Step 3: Paint Back Side of Door
After applying two coats of primer, the next step is applying two coats of paint. It's very important that you choose the right kind of paint. It's best not to use flat or eggshell paint as they are not as durable. We used high-quality semi-gloss paint made by Valspar.
Before getting started with painting, you'll want to sand the door again with 220 grit sandpaper to give it a smooth finish. After wiping down the door from sanding you're ready to paint.
Similar to priming, I used a roller brush for all surfaces waiting at least 3-4 hours in between coats.
Tools and Materials Needed:
Paint (High-quality semi-gloss)
Roller paintbrush
Paint pan
Trash bags to cover paint pans
220 grit sandpaper
Rags
Step 4: Repeat Priming and Paint Front Side of Door
All materials used and steps to paint the backside of the door should be applied to this step. Be sure the paint from the backside of the door is fully dry (at least 24 hours) before flipping over to the other side. Otherwise, some paint may stick to the sawhorse and you'll need to start over again.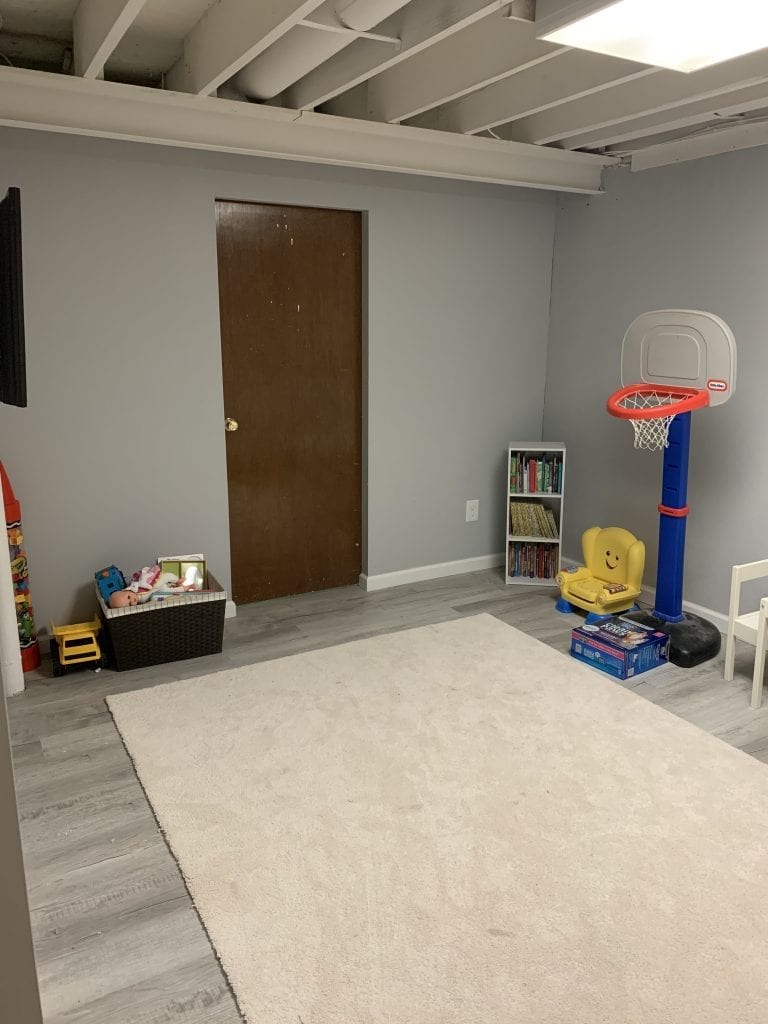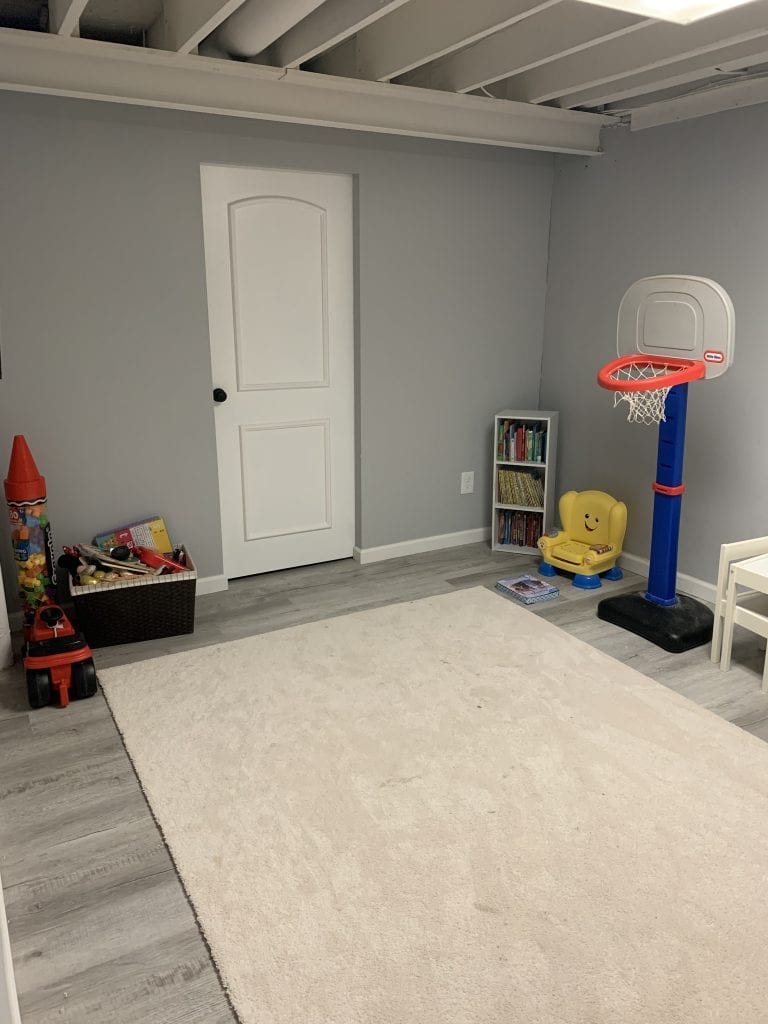 Step 5: Add Trim to Front (and Back) Side of Door
What really puts the finishing touch on the door is the trim. We used this trim set from Home Depot. It comes with the trim frames already put together along with a template to measure and the adhesive to glue the trim to the door. It currently retails for $33 per door.
Keep in mind, if you want both sides of the door to have the trim you'll need to buy two sets. You can likely get away with only using one side of a closet door. However, for bedrooms, bathrooms, and transition doors you'll likely want to buy two kits per door.
Going in, I was skeptical about how this trim would look when finished. The product is advertised as obtaining the cost of a high-end raised frame door at a fraction of the cost. After adding this trim to several doors, I can say that it really does make a huge difference. Just painting the doors without the trim made the updates look cheap. However, once the trim was added, the doors really did look like nice high-end doors.
Each package of door trim comes with adhesive along with a measuring kit. The measuring kit ensures alignment of the trim on your door. The trim is ideal for 28″, 30″, and 32″ doors, though I've also added it to a 26″ door and it looks good as well.
To glue the trim to the door I would suggest the following steps:
Without any adhesive, align the trim on the door using the measuring kit.
Take a pencil and mark off all four corners of the trim.
Remove trim and apply a thin coat of adhesive to the back of the trim. (The adhesive is strong so don't overdo it.)
With adhesive on the back of the trim, set trim on the door.
Set an item of moderate weight on each of the four corners of the trim. Let sit for a few hours until adhesive dries.
Repeat with a second trim set.
Once dry, paint trim with a paintbrush (same color as the door).
TOOLS AND MATERIALS NEEDED:
EZ-Door Trim Set
Paint items included in step 3
Step 6: Replace Hardware and Hang Door
Once the paint on the trim dries it's time to add the doorknobs and hinges. In our case, we decided to get all new hardware, but you could always add the same hardware back to your door. Spray painting your current hinges and knobs could give it a fresh look if you decide not to buy new ones.
Ensuring that any new hardware is as close to the old hardware as possible is important. Even minor changes can result in your door not closing correctly. Out of the four doors we've replaced so far, one rubs on the door jamb when closing a bit. I believe it's because the hinges on that door were slightly different than the other doors.
Applying your hardware is relatively straightforward. Screw on the hinges and make sure any new doorknobs fit into the old slots. Put them on the same way you took them off. Once the hardware is on and you rehang the door, it's time to enjoy your beautiful new door!
Tools and Materials Needed:
Hardware (hinges and knobs)
Screwdriver (flat head and Phillips)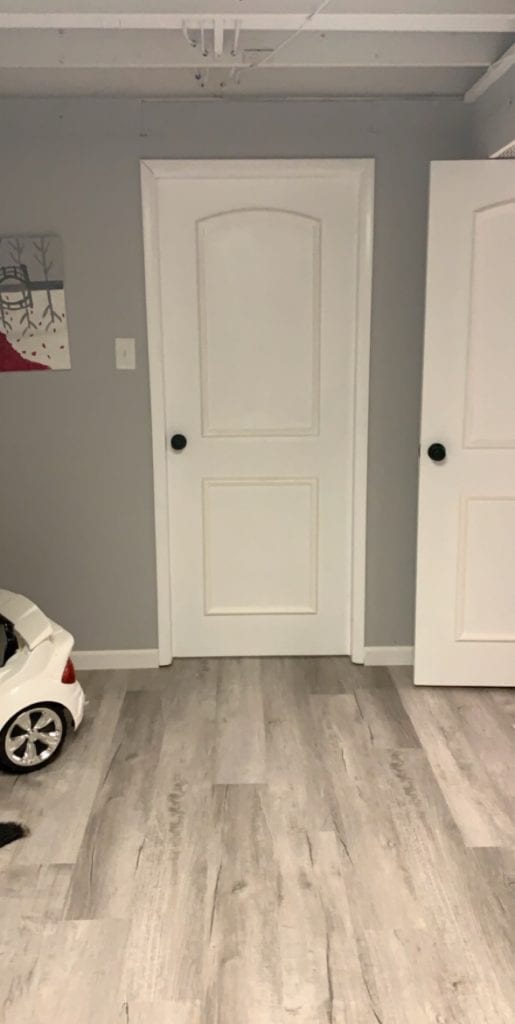 Total Cost of Updates to an Old Wood Door
Now, obviously not everything listed above is included in the cost of replacing your old wood door. I'm going to assume that you have certain tools and materials to start such as a flat-head screwdriver, sawhorses (or something similar), and rags. Also, the cost of paint will be averaged assuming that you are updating several doors at once. A one-gallon can of primer and one gallon can of paint end up being enough paint for about eight doors.
EZ-Door Trim: $65 (assuming both sides)
Hardware: $20 (doorknobs and hinges average per door)
Paint and materials: $15 (average per door)
Sandpaper $4 (average per door)
Total Cost = $99
This can obviously fluctuate depending on your approach. Some doors may only need trim on one side. You may opt for higher-quality hardware. Paint, sandpaper, and other materials decrease in average cost the more doors you have to update.
I was highly skeptical going in that the doors wouldn't turn out as well as they did. I'm so glad we found the trim kit because it makes a massive difference. Without the trim, the door looks like a cheap update. The trim really does make it look more high-end. We've updated four doors in the basement so far and plan to update eight more doors upstairs. In the end, this will save us thousands of dollars compared to if we completely replaced each door and frame.
If you have any questions please drop them below in the comments and I'll do my best to answer for you. Thanks for reading!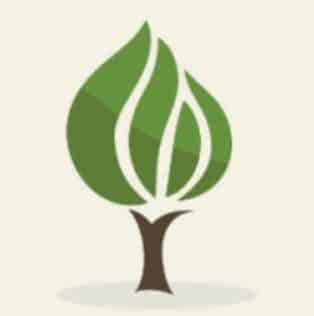 Mark is the founder of Financial Pilgrimage, a blog dedicated to helping young families pay down debt and live financially free. Mark has a Bachelor's degree in financial management and a Master's degree in economics and finance. He is a husband of one and father of two and calls St. Louis, MO, home. He also loves playing in old man baseball leagues, working out, and being anywhere near the water. Mark has been featured in Yahoo! Finance, NerdWallet, and the Plutus Awards Showcase.