The Vanguard Total Stock Market Index (VTSAX) is the golden child of the financial independence movement. Why stress about picking individual stocks when you can own all of them? That's right, the purchase of one share of VTSAX gives you a tiny sliver of every single stock in the U.S. equity market. 500 VTSAX shares will buy you even more.
Index funds such as VTSAX have become more popular over the past decade. However, research shows that active investing doesn't provide additional returns compared to passive investing. Once you include the fees associated with active funds (often 1% or more) compared to passive funds such as VTSAX (with fees of 0.15%), active funds can often result in a smaller overall return. A 1% fee may not seem like much but can add up to hundreds of thousands of dollars over a few decades.
My brokerage account is approaching 500 VTSAX shares. That left me wondering, how many of the biggest companies do I own with 500 VTSAX shares? The current share price of VTSAX is around $117 (as of mid-November 2021). Therefore, it would cost you $58,500 to purchase 500 VTSAX shares in today's market.
The first time I checked the top holdings of VTSAX, I was surprised by how heavy it was in big tech stocks. It shouldn't have surprised me. Tech stocks like Apple, Microsoft, and Amazon have grown to the largest in the U.S. What was most surprising was how much of each share of VTSAX is made up of these three stocks. Even though VTSAX comprises about 3,700 stocks, Apple, Microsoft, Amazon, Facebook, and Tesla make up nearly 16% of every share of VTSAX. Google (Alphabet) is also one of the top stocks in the portfolio (about 3.2%), but since it's split between two different classes of stocks, I left it out to keep the below chart simple. However, if you throw in Google, six companies make up about 20% of VTSAX.
What Do 500 VTSAX Shares Buy You?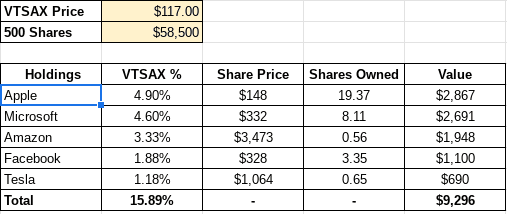 A few thoughts from the table above:
The five stocks listed above make up nearly 16% of every share of VTSAX. Therefore, in today's dollars, an investment of $58,500 (or 500 VTSAX shares) means that you'll own nearly $10,000 in five of the largest holdings in VTSAX. It surprised me how much of a portfolio of almost 3,700 stocks is dominated by only a handful.
When you own 500 VTSAX shares, that translates into being an owner of nearly 20 shares of Apple stock, eight shares of Microsoft, etc. I know this isn't groundbreaking analysis or anything, but it was an excellent exercise to go through as it makes owning VTSAX seem more real when you better understand where your investments are going.
If you were to expand this out to all stocks in the S&P 500, it would cover about 75% of VTSAX. Therefore, we can conclude that smaller 3,200 U.S. stocks not in the S&P 500 make up about 25% of VTSAX. Given the similarities, VTSAX and an S&P 500 EFT (VOO) have near-identical returns over the past ten years, so you really can't go wrong either way.
This exercise has made me realize just how much larger Apple, Microsoft, Amazon, and Google are compared to other companies in the U.S. With most in the tech field, it makes you wonder what would happen if another tech bust happens.
With every share of VTSAX you buy, about $6 is going to the big companies such as Apple and Microsoft. Even on a smaller scale, nearly $2 goes towards Facebook and Tesla. This is one of the complexities of index fund investing. Say you dislike a company such as Facebook. You will invest your dollars into that company whether you like it or not.
For me, it makes me a bit uncomfortable knowing that so much of my money is tied up in these large tech companies. So in the future, I plan to put some money into Vanguard's real estate index fund (VGSLX) to diversify my portfolio.
Many of these large tech companies do not pay dividends. It helps explain why the dividend yield for VTSAX is relatively low compared to other equity-heavy index funds.
You may be wondering, what other large companies make up a large share of VTSAX? Other companies not included in the table above are Alphabet Class A (1.66%), Alphabet Class C (1.565), Berkshire Hathaway (1.09%), NVIDIA (1.07%), and JP Morgan Chase (1.06%). If you include these five companies with the companies listed above, the top 10 holdings in VTSAX account for 22.3% of assets.
Thanks for reading this week! This article is more a brain dump of some questions I was curious about as an owner of VTSAX. If you are an owner of VTSAX or considering becoming an owner, I hope this helped you as well. Feel free to post questions below in the comments or email me at contact at financialpilgrimage dot com.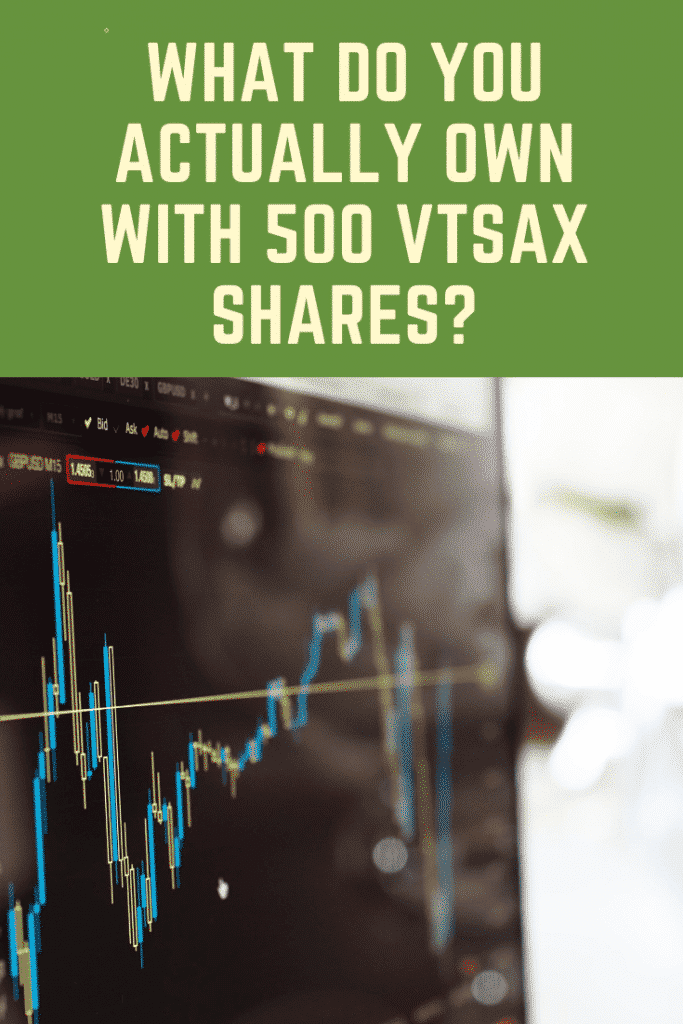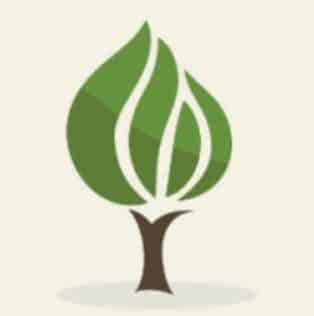 Mark is the founder of Financial Pilgrimage, a blog dedicated to helping young families pay down debt and live financially free. Mark has a Bachelor's degree in financial management and a Master's degree in economics and finance. He is a husband of one and father of two and calls St. Louis, MO, home. He also loves playing in old man baseball leagues, working out, and being anywhere near the water. Mark has been featured in Yahoo! Finance, NerdWallet, and the Plutus Awards Showcase.